Our coaching forms cover a wide variety of issues in the areas of self-growth and wellness.
To modify the tools, click the Send to Client Button by each tool to open our Psychology Forms Filler. You can modify the tool as you see fit and then either print it out or send it to a client to be filled out online. Click here for a tutorial on using the Psychology Forms Filler.
Use the navigation links on the left of this page to view tools in a specific category. Or use the search function at the top of this page to find the exact tool you are looking for.
If you can't find what you are look on this site, please let us know by
clicking here and our team of writers, graphic artists, and therapists will custom design it for you.
---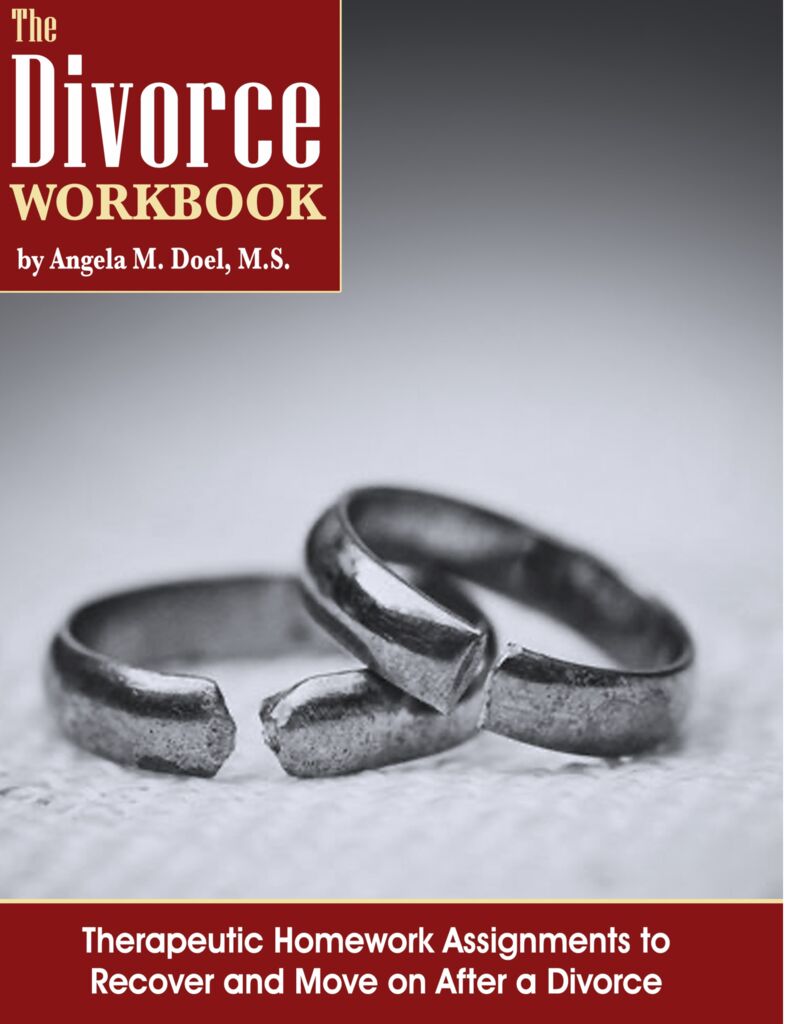 The Divorce Workbook
This 196-page workbook provides clients with 41 therapeutic homework assignments to help them navigate and recover from divorce. In completing these assignments, clients identify what to do immediately following a separation, manage their thoughts and emotions, focus on self-care, and eventually move forward with their lives. (0123, divorce, separation, marriage, couples counseling, marital therapy)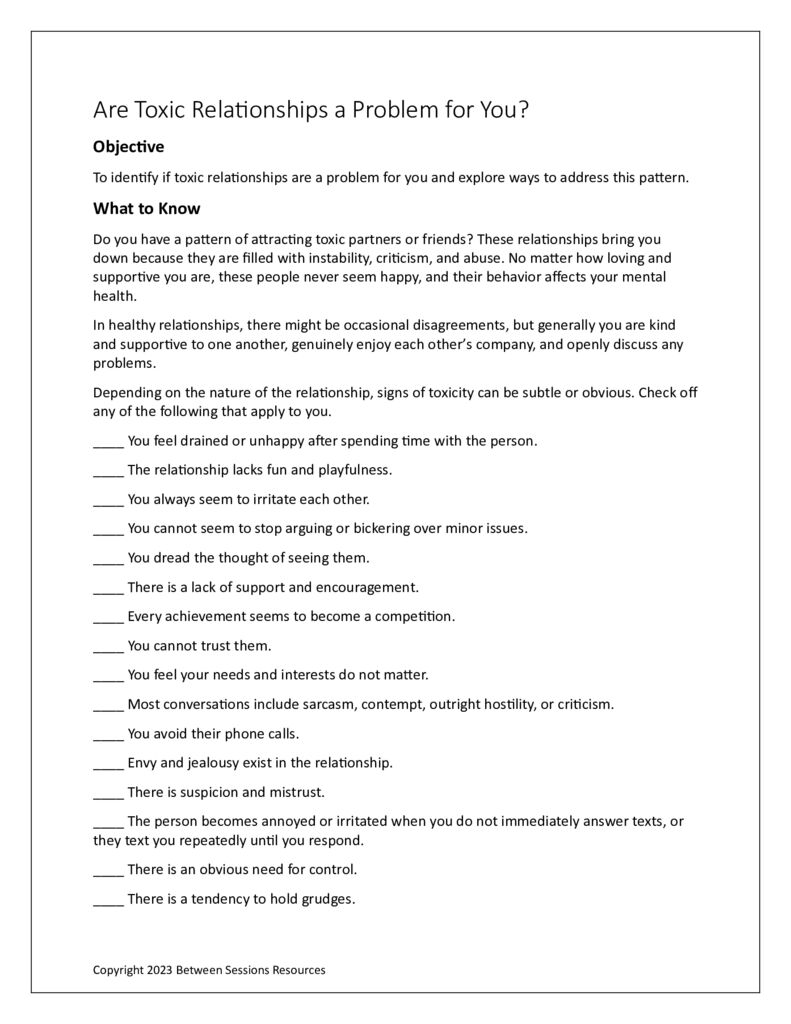 Do You Attract Toxic Relationships?
This worksheet is intended to help people determine if toxic relationships are a problem for them and explore ways to address this pattern. A scorable checklist is included to rate the toxicity of the relationship from moderate to severe.  Then suggestions are given to help people break a pattern of being in toxic relationships. Readers are asked to think about how people from the past may have set the stage for toxic relationships. (marriage counseling, family therapy, relationships)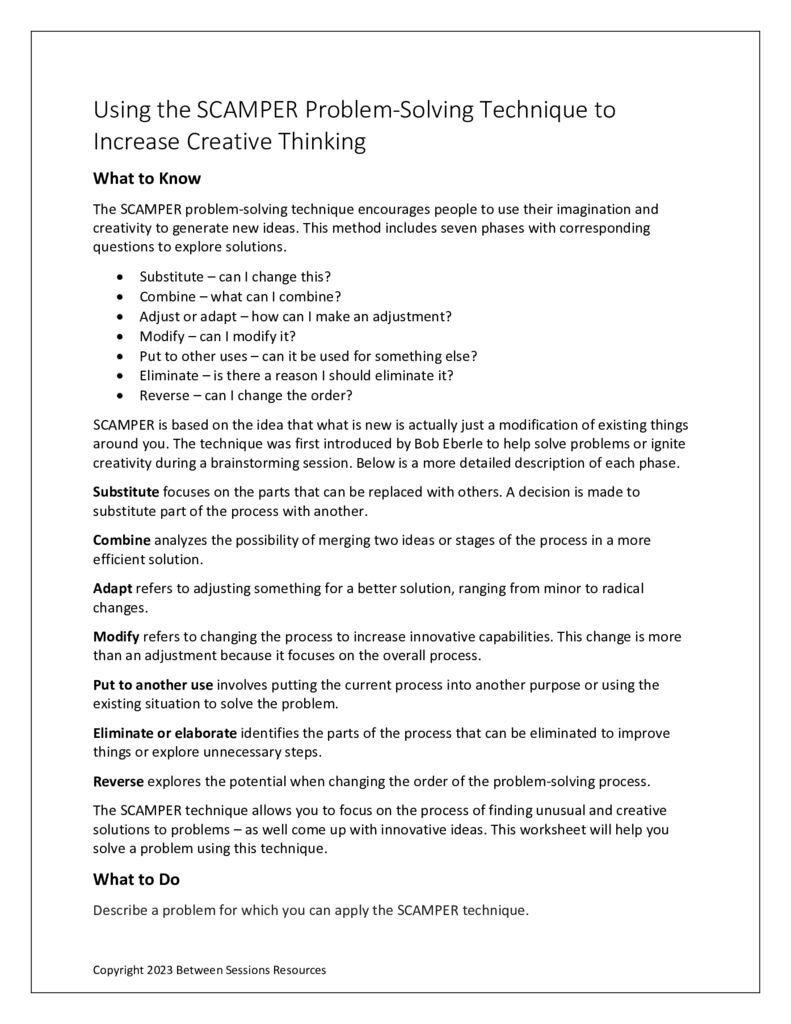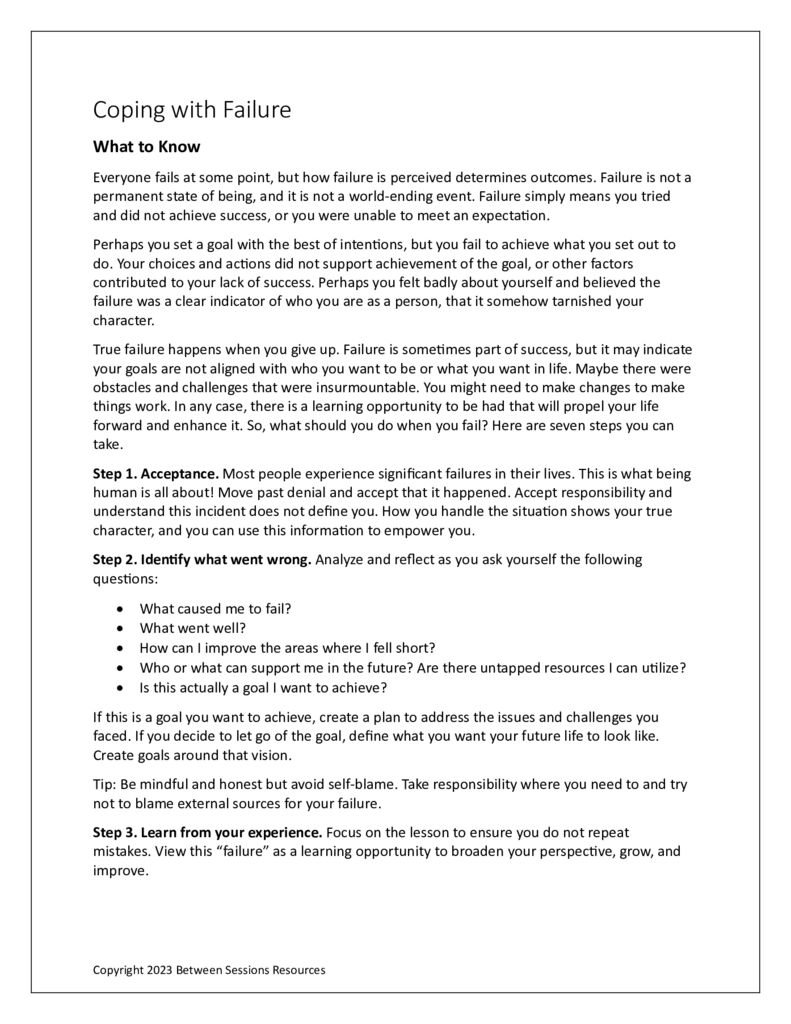 Coping with Failure
This worksheet is designed to help people cope with failure using a 7-step process. (0123, depression, work issues, self-esteem, self-efficacy)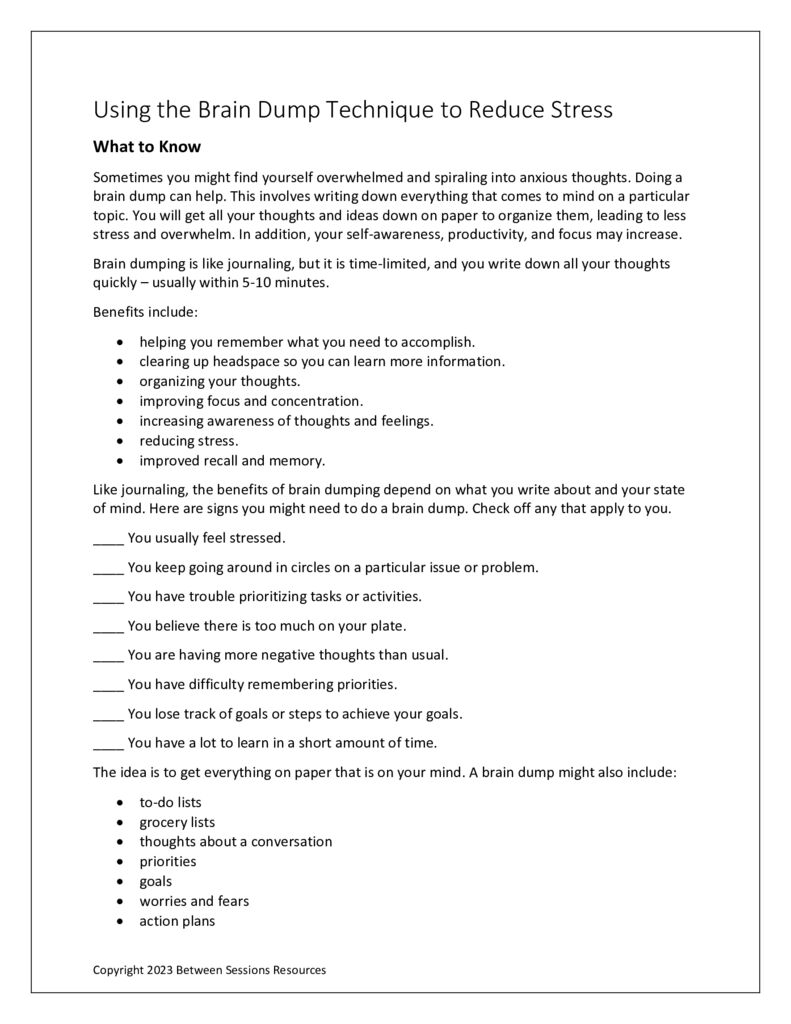 Using the Brain Dump Technique to Reduce Stress
This worksheet describes a stress reduction technique that involves writing down everything that comes to mind on a particular topic.  A brain dump could include thoughts about a conversation, goals, worries, fears, or a list of things that are bothering you.   The worksheet describes four categories of brain dumps.  It encourages people to use a notebook or journal to practice this technique each day for two weeks and record their feelings. (0122, stress reduction, journaling)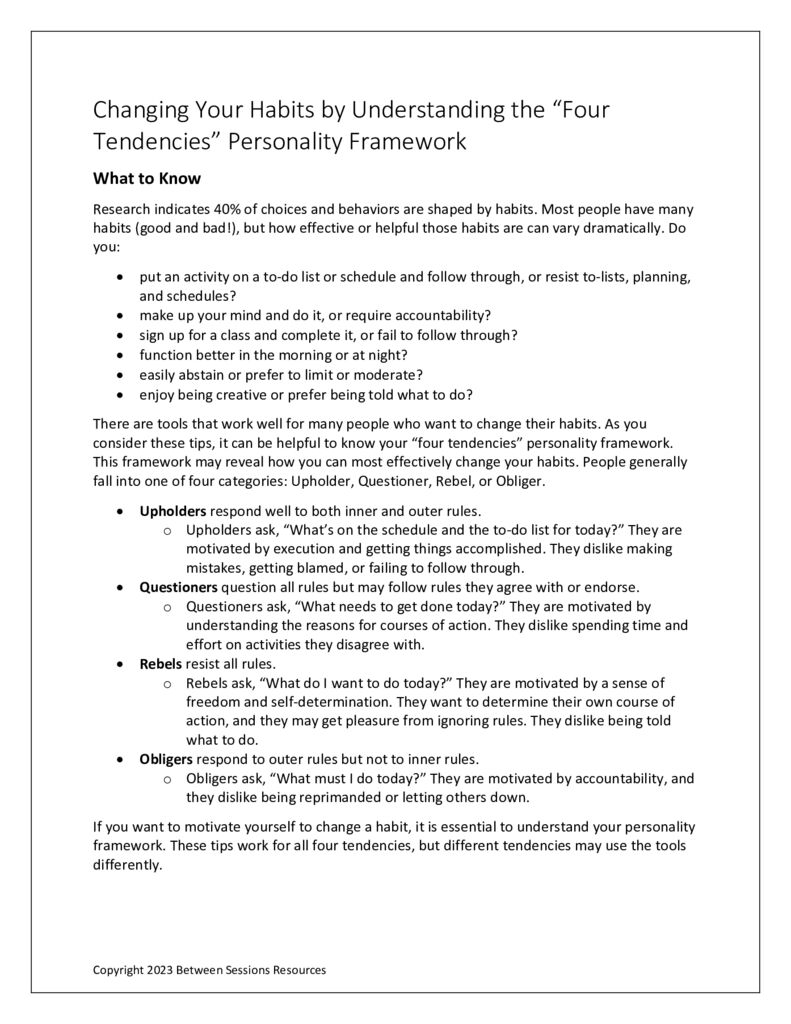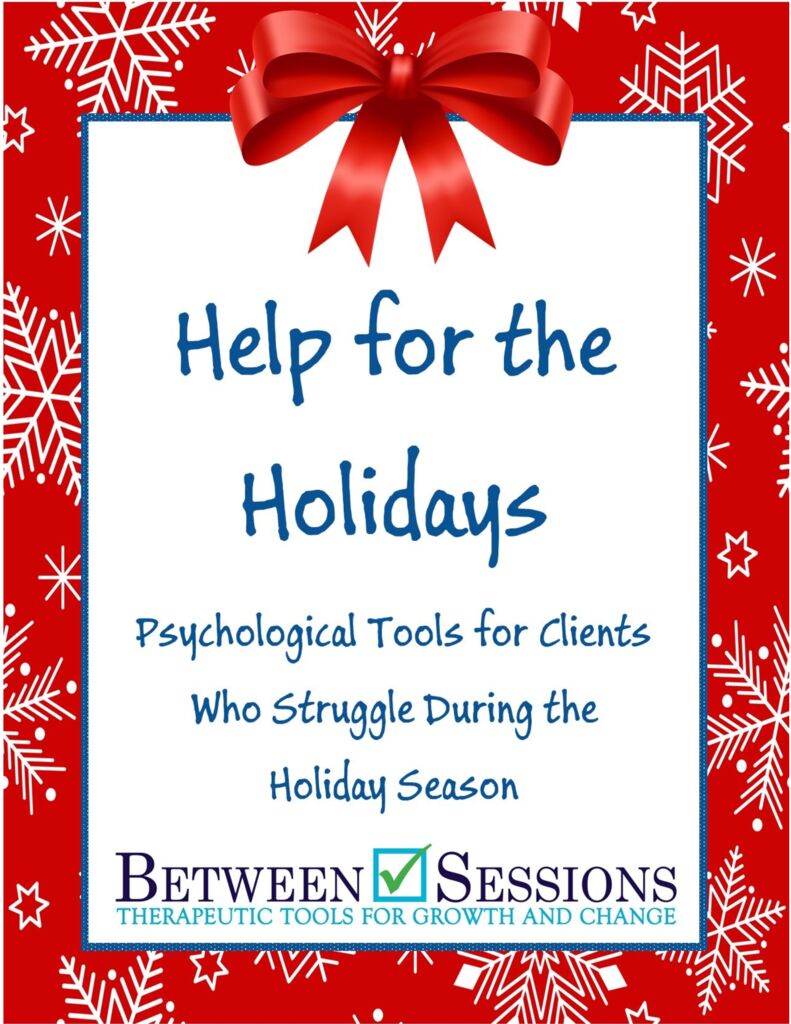 Help for The Holidays
This workbook contains 15 worksheets to help clients who are struggling with holiday problems like loneliness, family estrangement, depression, and more. (1222, holidays, stress, depression, drinking problems)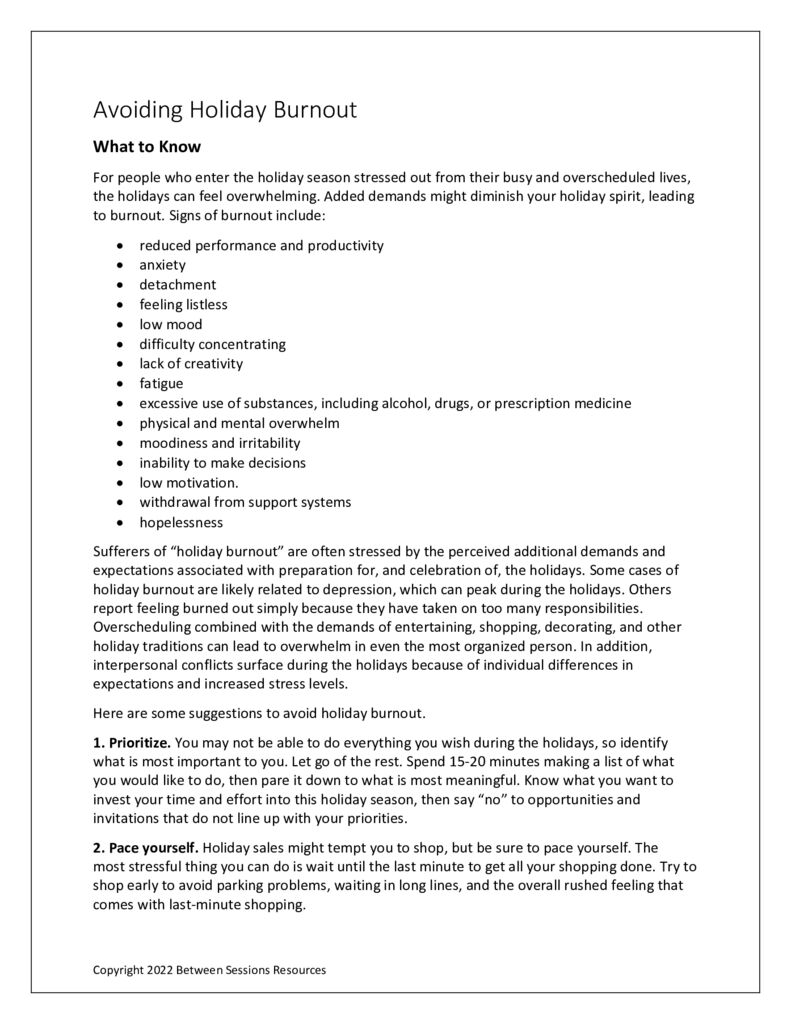 Avoiding Holiday Burnout
This worksheet is designed to help people who are over-stressed by the holidays and starting to feel depressed rather than enjoying what the holidays can offer. The worksheet gives 8 recommendations for handling holiday burnout and a series of questions to help people find ways to deal with this common problem. (1222,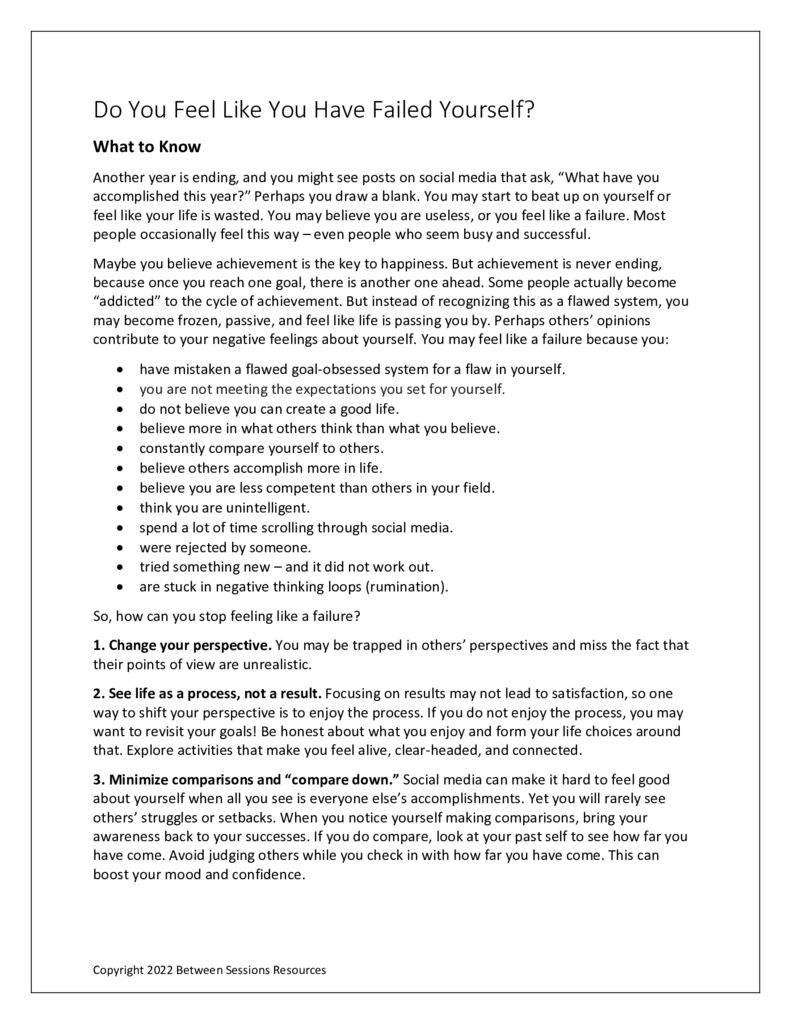 Do You Feel Like You Have Failed Yourself?
This worksheet is designed for people who are down on themselves because they have not accomplished all that they wanted. The worksheet helps people see that this attitude is not at all helpful to their well-being and gives them 10 strategies to overcome their habit of self-criticism. (1222, depression, self-esteem, negative thinking)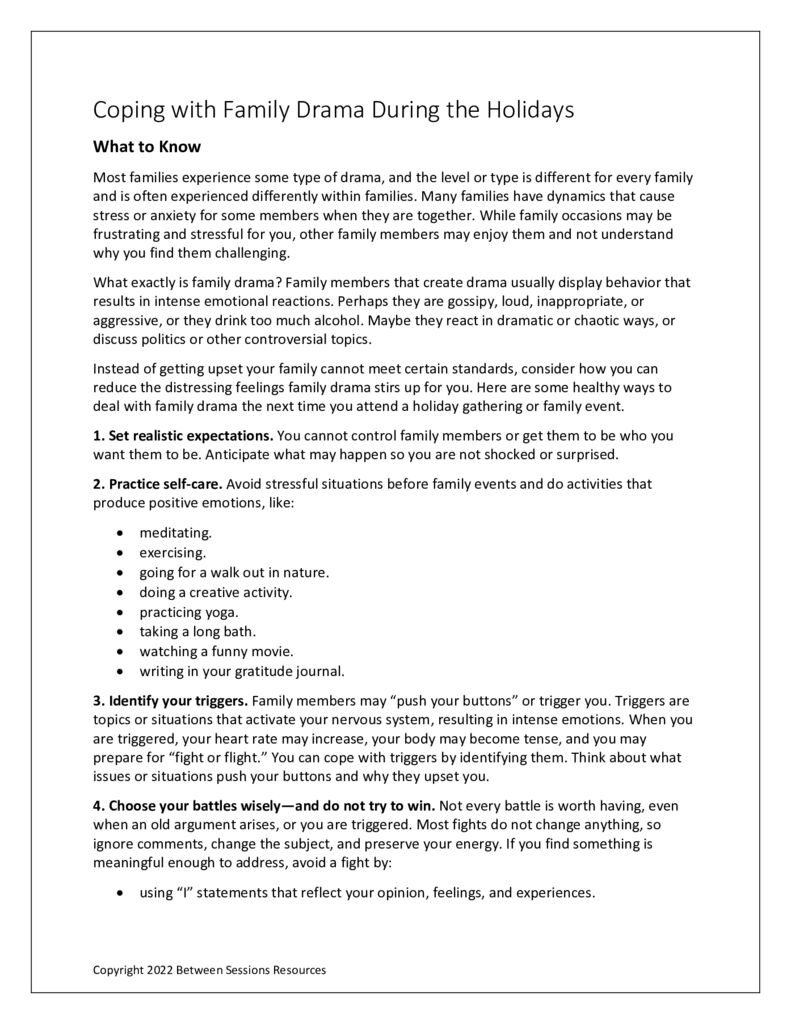 Coping with Family Drama During the Holidays
This worksheet is designed to give people a wide range of strategies to deal with family problems that typically occur during the holidays. Strategies include setting realistic expectations, self-care, identifying triggers, choosing to accept family members as they are, taking "stress breaks," and more. (1122, family therapy, holidays, stress management, interpersonal conflict, interpersonal effectiveness)