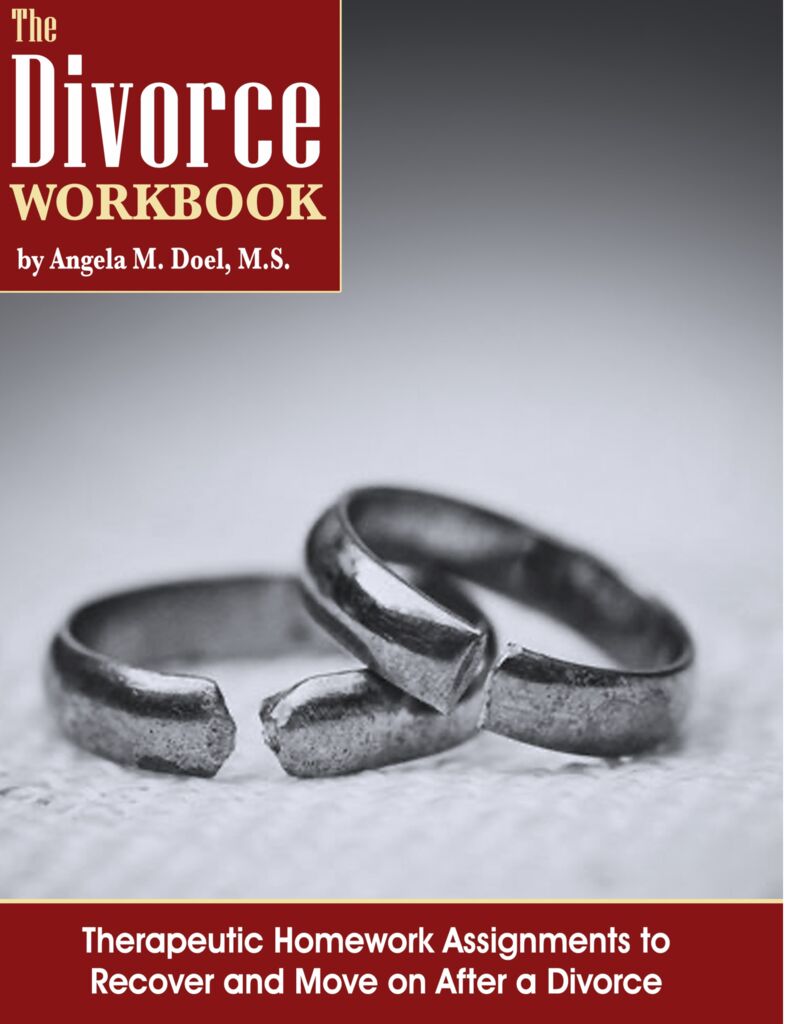 The Divorce Workbook
This 196-page workbook provides clients with 41 therapeutic homework assignments to help them navigate and recover from divorce. In completing these assignments, clients identify what to do immediately following a separation, manage their thoughts and emotions, focus on self-care, and eventually move forward with their lives. (0123, divorce, separation, marriage, couples counseling, marital therapy)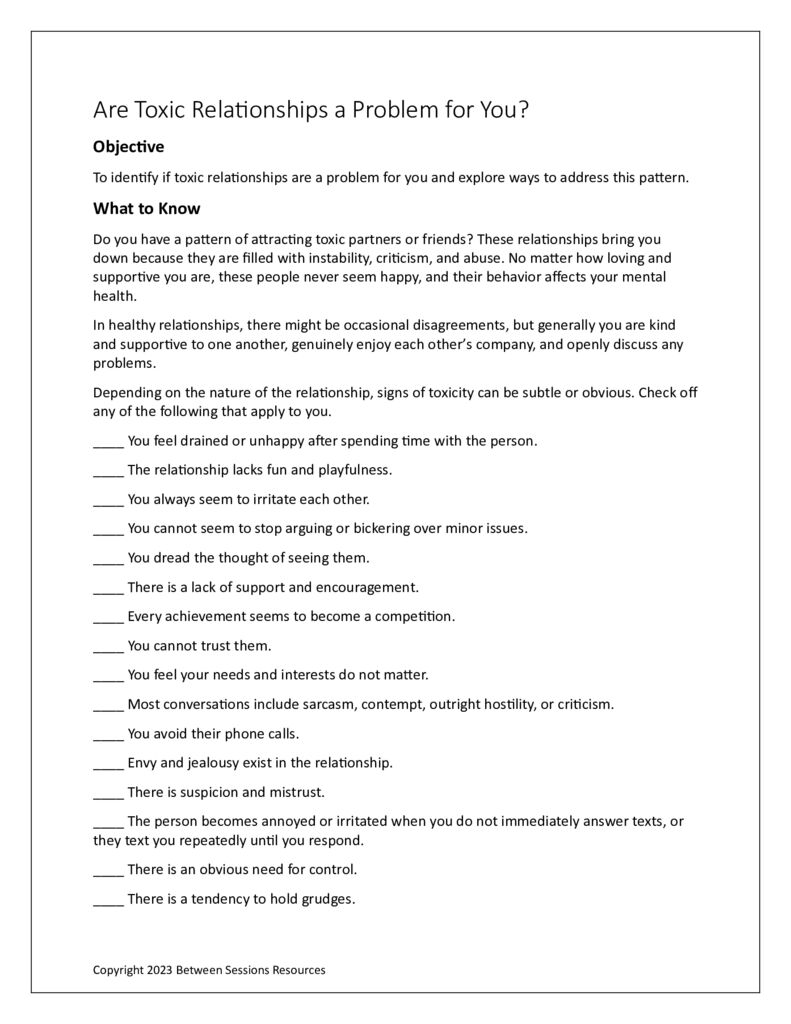 Do You Attract Toxic Relationships?
This worksheet is intended to help people determine if toxic relationships are a problem for them and explore ways to address this pattern. A scorable checklist is included to rate the toxicity of the relationship from moderate to severe.  Then suggestions are given to help people break a pattern of being in toxic relationships. Readers are asked to think about how people from the past may have set the stage for toxic relationships. (marriage counseling, family therapy, relationships)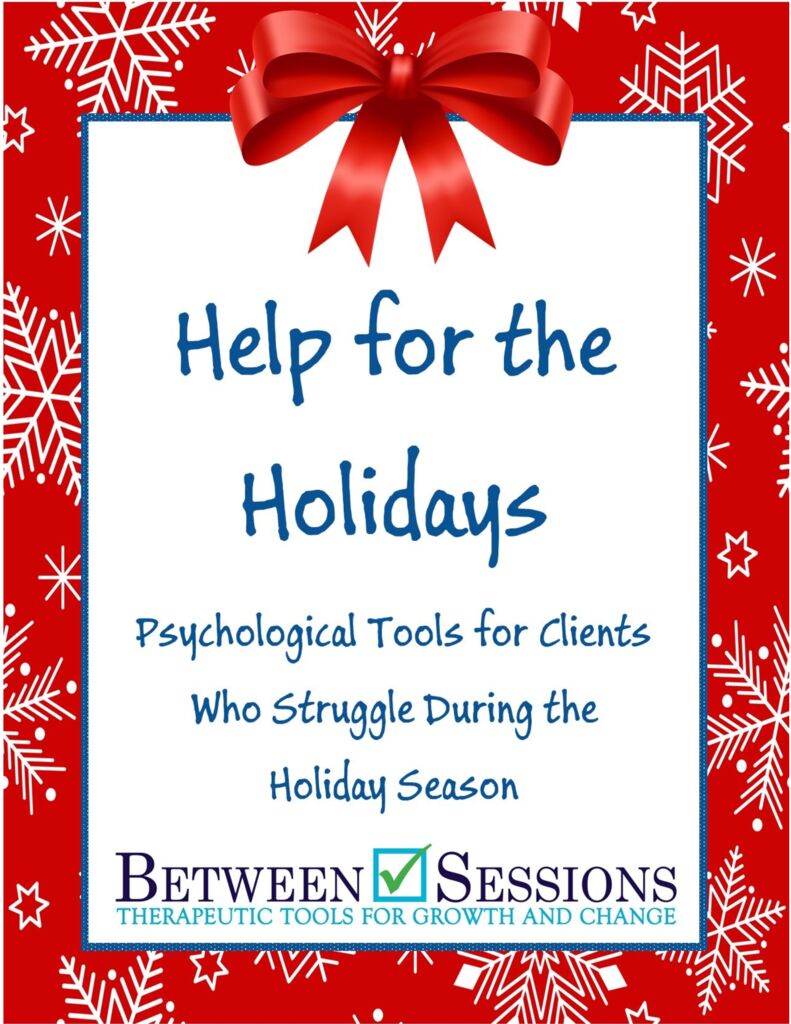 Help for The Holidays
This workbook contains 15 worksheets to help clients who are struggling with holiday problems like loneliness, family estrangement, depression, and more. (1222, holidays, stress, depression, drinking problems)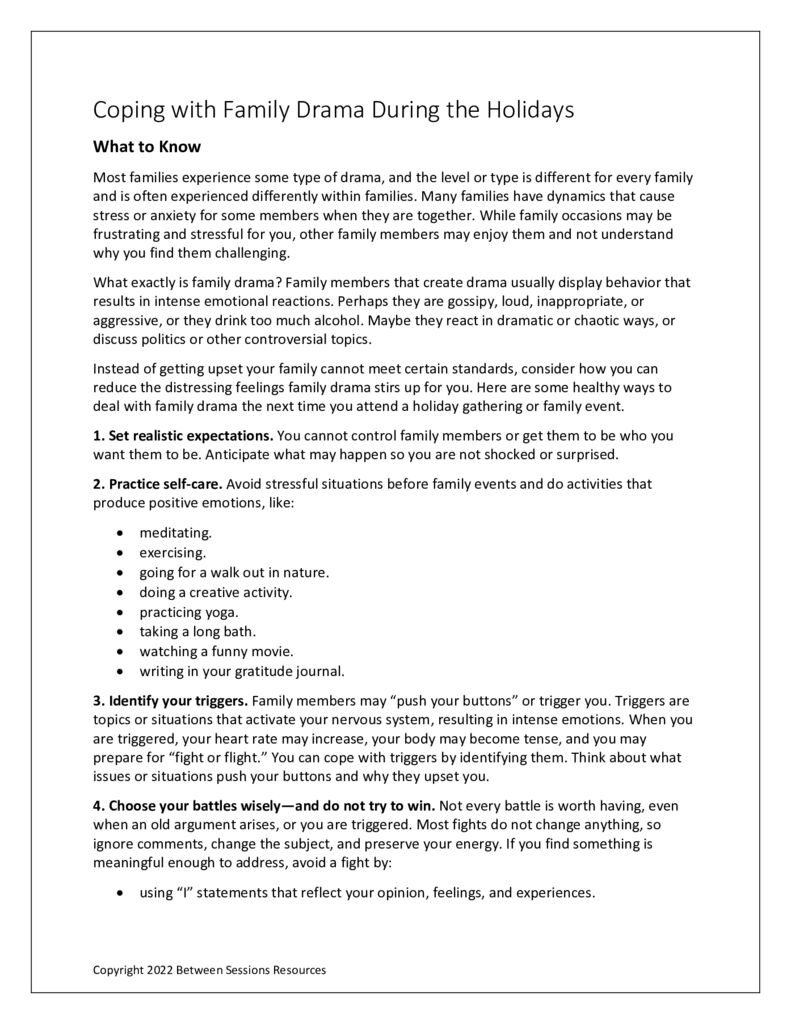 Coping with Family Drama During the Holidays
This worksheet is designed to give people a wide range of strategies to deal with family problems that typically occur during the holidays. Strategies include setting realistic expectations, self-care, identifying triggers, choosing to accept family members as they are, taking "stress breaks," and more. (1122, family therapy, holidays, stress management, interpersonal conflict, interpersonal effectiveness)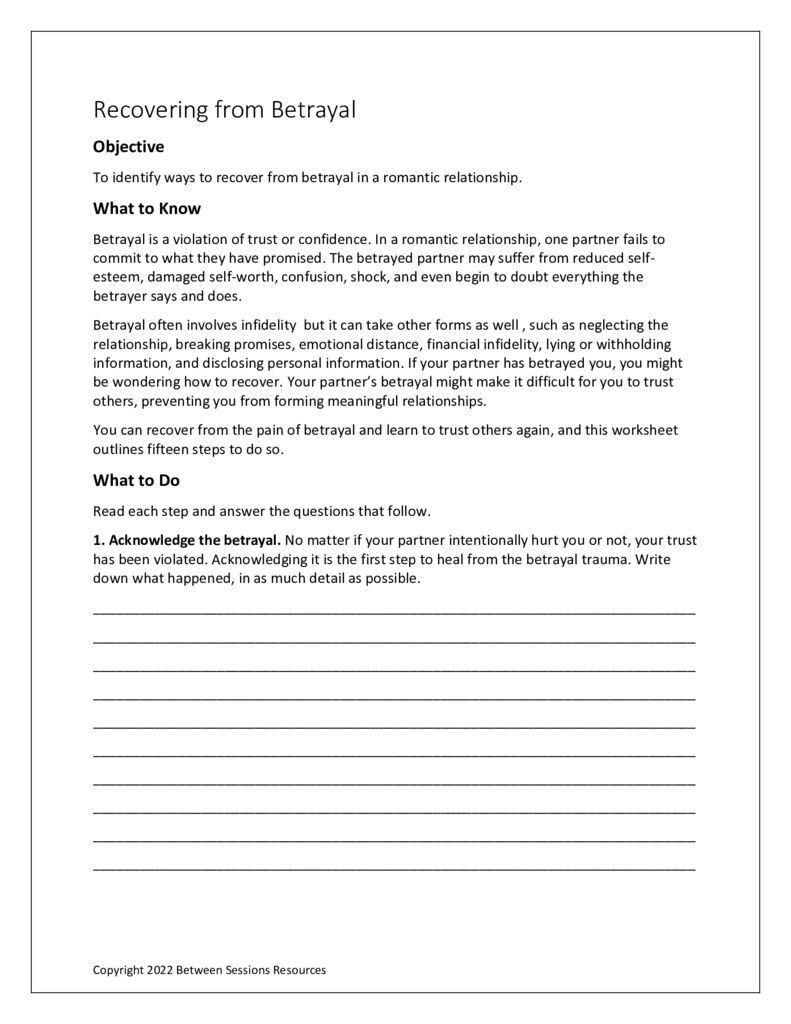 Recovering from Betrayal
This worksheet is designed to help people understand and get past the pain of betrayal in a relationship. Betrayal can come from infidelity, but also from breaking promises, lying, disclosing private and personal information, and more.  The worksheet explains 15 steps to get past the betrayal, from deciding whether or not to stay in the relationship to practicing forgiveness. (1122, relationships, infidelity, betrayal, marriage counseling, family therapy)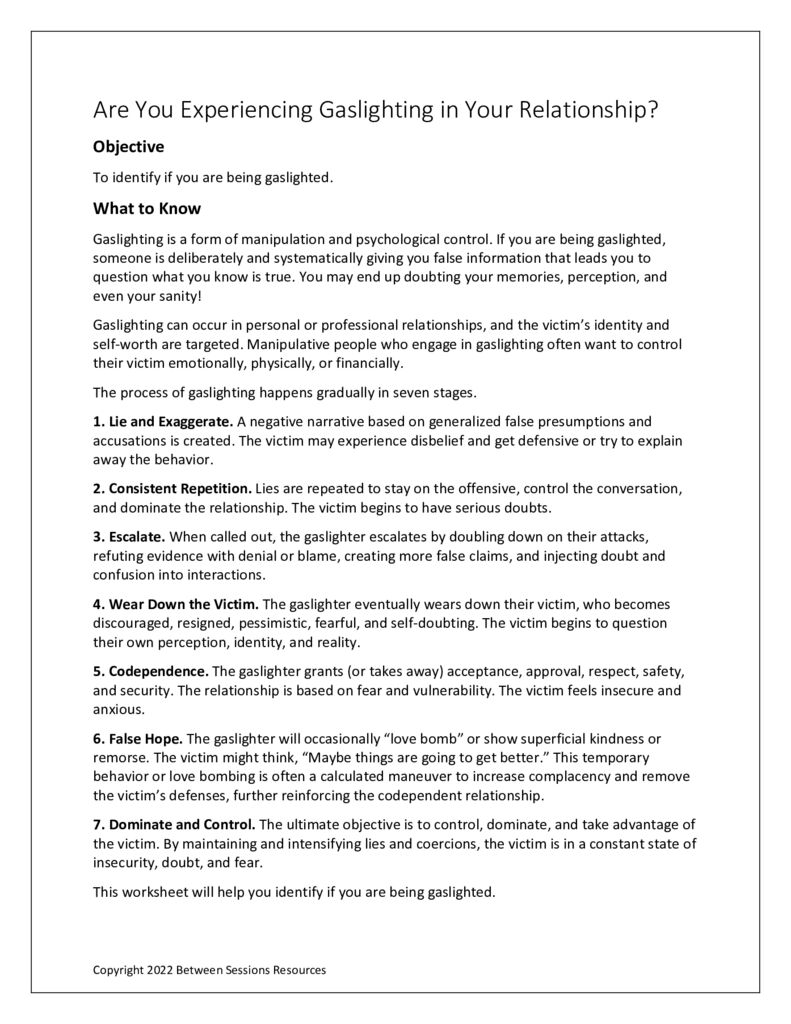 Are You Experiencing Gaslighting in Your Relationship?
This worksheet helps people understand the concept of "gaslighting," a process where someone deliberately and systematically gives someone false information leading them to question themselves and what is true. It explains the seven stages of gaslighting, from lies and exaggeration to domination and control.  The worksheet also gives people a chart to record incidents of gaslighting and to think about how the situations and the outcomes can change. (1022, marital and family therapy, relationships, interpersonal effectiveness)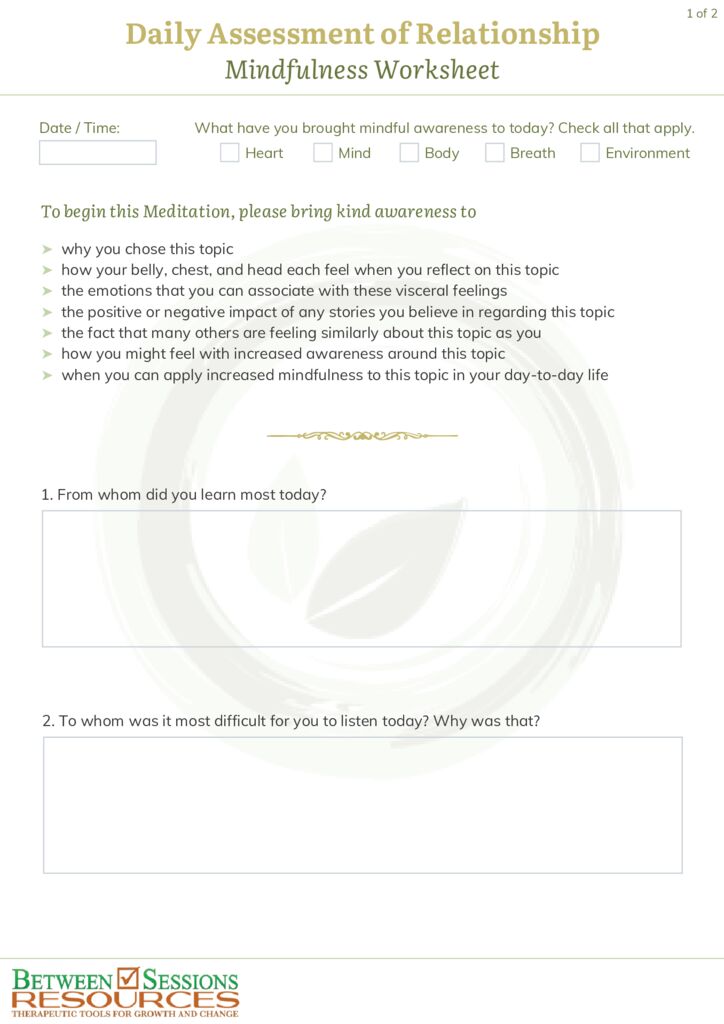 Mindfulness – Daily Assessment of Relationships
This worksheet asks people to think about the good and problematic conversations that occurred and what they learned from thinking about their different relationships. (0922, relationships, communication)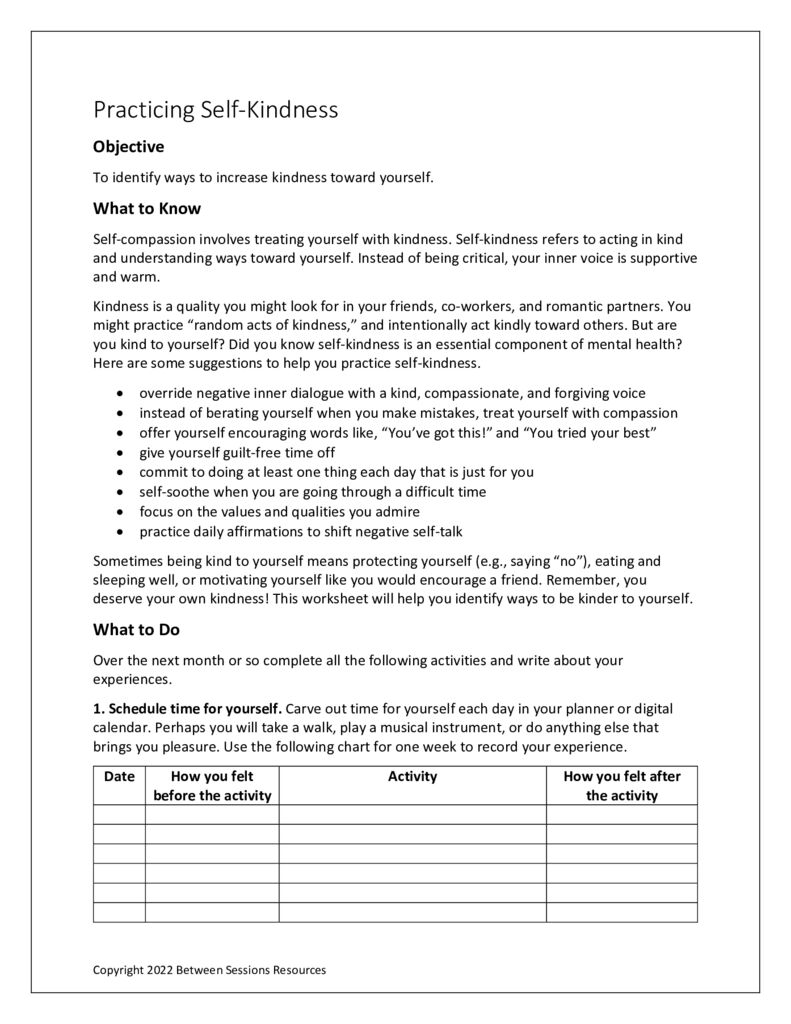 Practicing Self-Kindness
This worksheet encourages people to increase their kindness to themselves.  It gives 14 suggestions on how to increase self-compassion. (0822, self-care, self-compassion)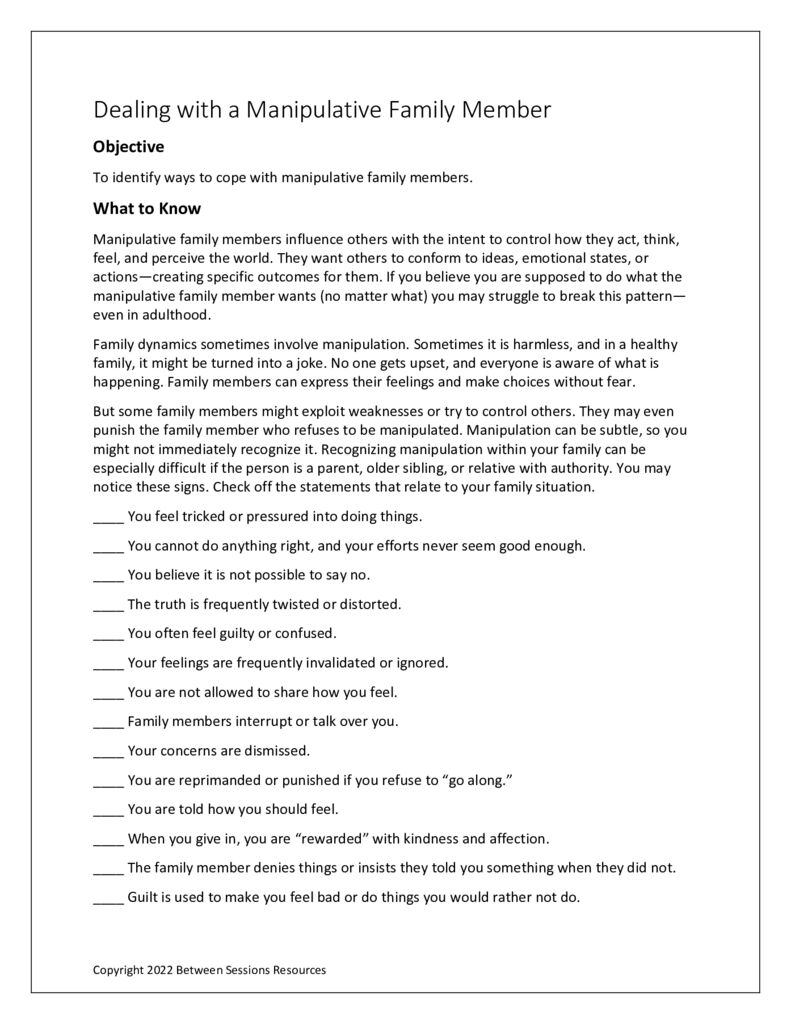 Dealing with a Manipulative Family Member
This worksheet is intended to help people explore what it means to be manipulated by someone else and how to respond appropriately to manipulation. (0822, family therapy, relationships, control)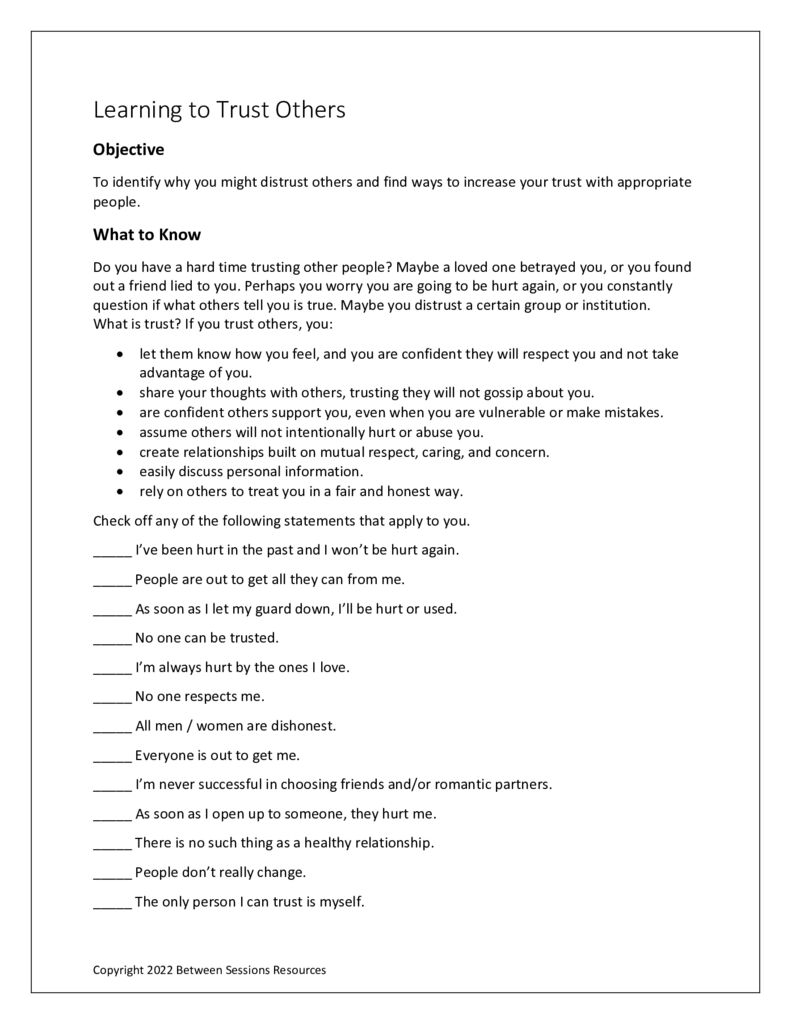 Learning to Trust Others
This worksheet is designed to help people who have a difficult time trusting others. It begins with a list of statements about trust.  People who check more than five statements may have trouble trusting others.  The worksheet then suggests several activities to help people explore the issue of trust, including writing a letter to someone they distrust (it doesn't have to be sent) and taking a "trust walk," where each person takes a turn being blindfolded and led by the other. (0822, relationships, trust, family therapy)