Studies tell us that when professionals prescribe therapeutic homework, clients report significantly better outcomes.  Our worksheets are derived from evidenced-based therapies, and they are designed by experienced professionals. Use the navigation links on the left of this page to view tools in a specific category. Or use the search box at the top of this page to find the exact tool you are looking for.
To modify the tools, click the Send to Client Button by each tool to open up our Psychology Forms Filler. You can then modify the tool as you see fit and either print it out or send it to a client to be filled out online. Click here for a tutorial on using the Psychology Forms Filler.
If you can't find what you are look on this site, please let us know by
clicking here and our team of writers, graphic artists, and therapists will custom design it for you.
---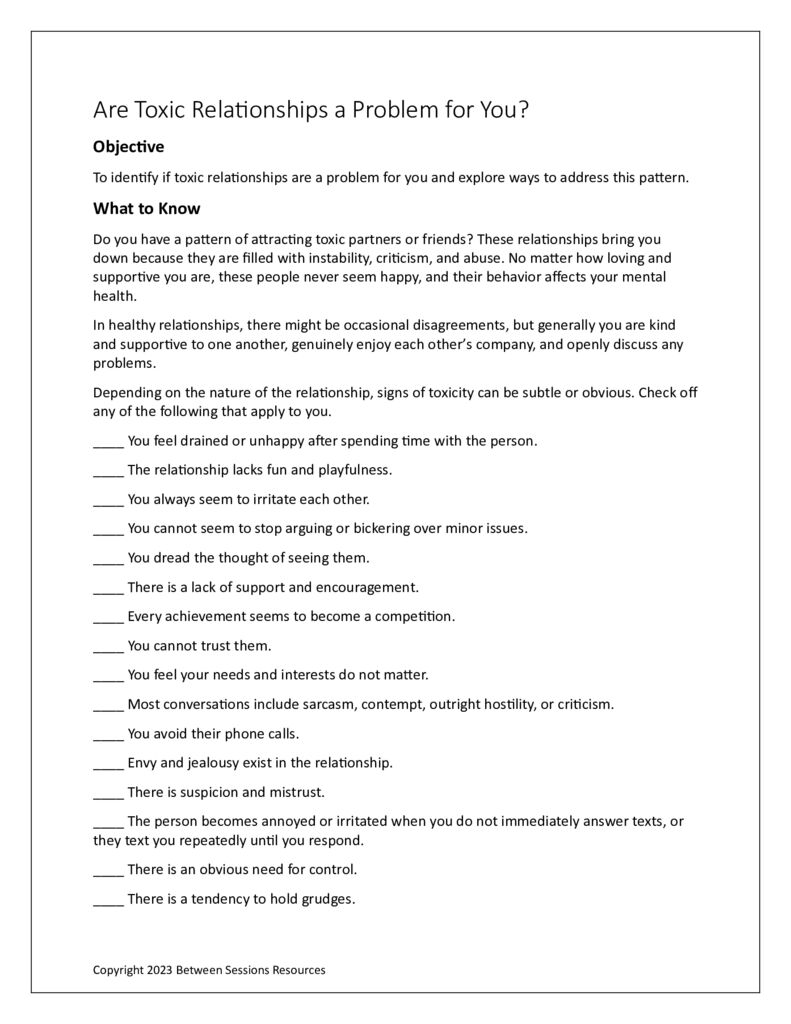 Do You Attract Toxic Relationships?
This worksheet is intended to help people determine if toxic relationships are a problem for them and explore ways to address this pattern. A scorable checklist is included to rate the toxicity of the relationship from moderate to severe.  Then suggestions are given to help people break a pattern of being in toxic relationships. Readers are asked to think about how people from the past may have set the stage for toxic relationships. (marriage counseling, family therapy, relationships)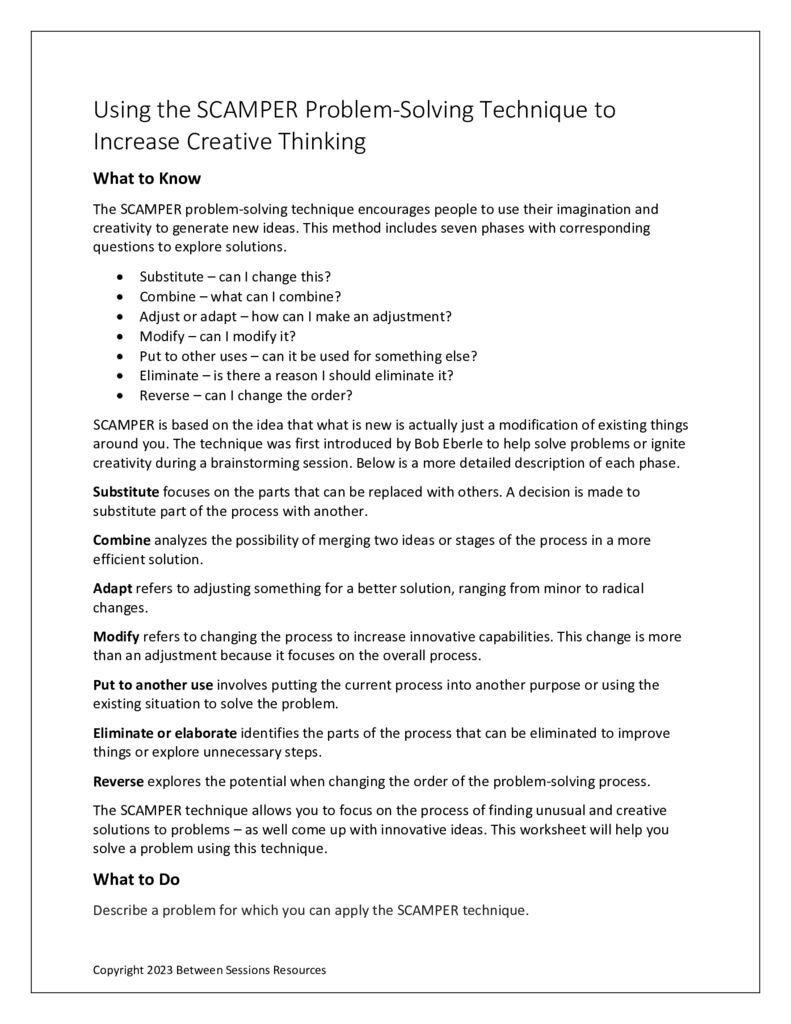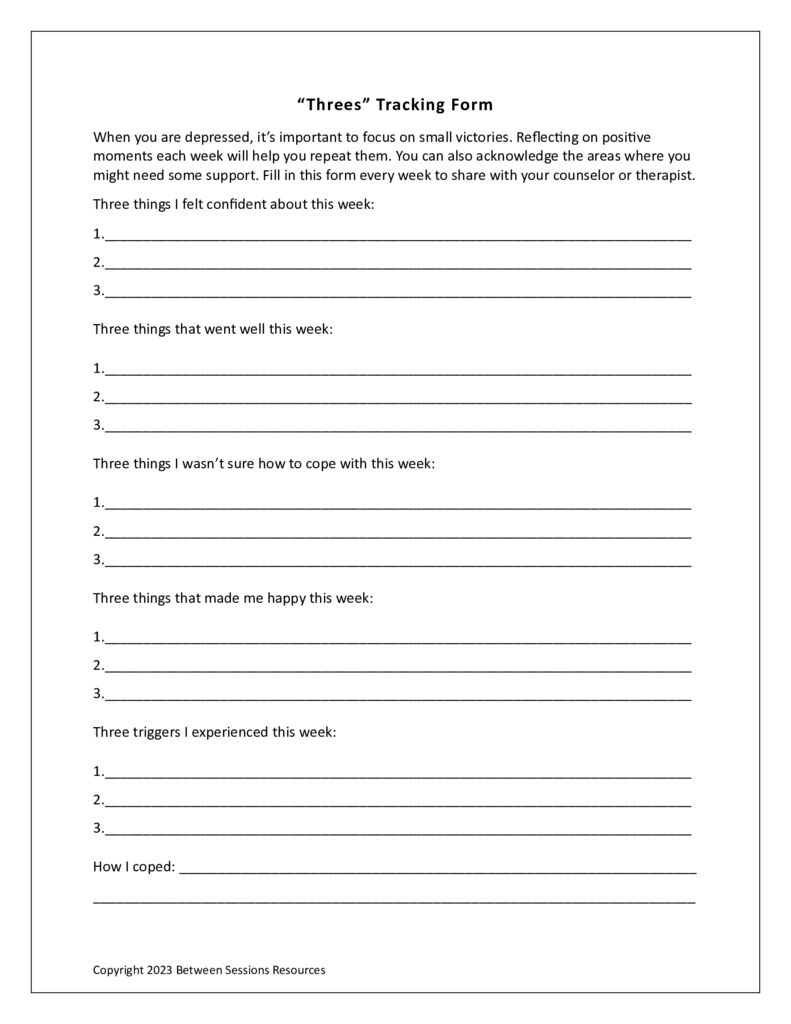 "Threes" Tracking Form
This worksheet is designed to help people with depression appreciate small changes in their attitude.  It asks them to look back at the past week and record three things they felt confident about, three things they coped with, three things that made them happy, and so on. (0123, depression)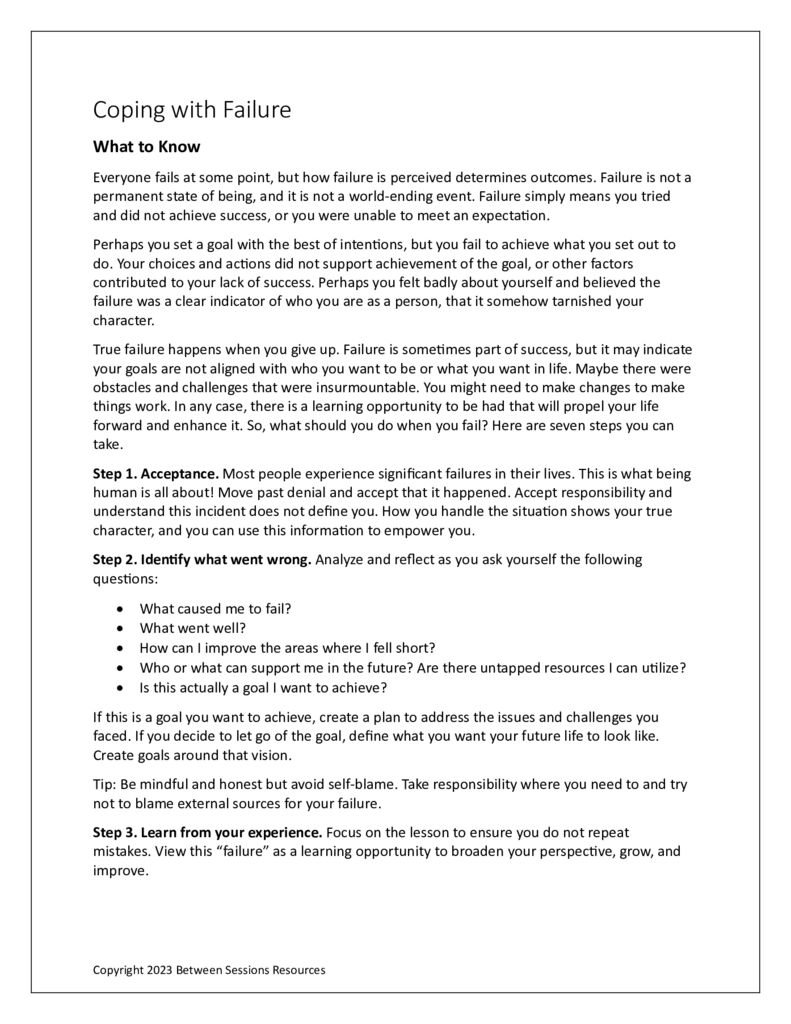 Coping with Failure
This worksheet is designed to help people cope with failure using a 7-step process. (0123, depression, work issues, self-esteem, self-efficacy)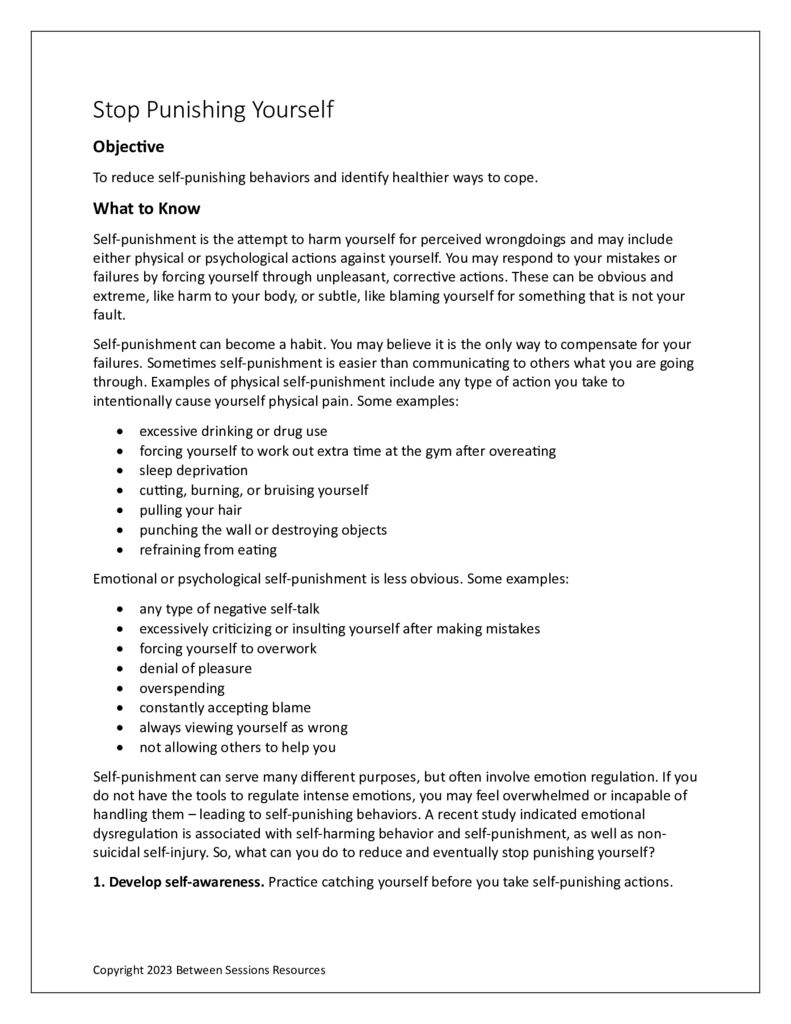 Stop Punishing Yourself
This worksheet talks about the various kind of self-punishment including physical and emotional self-punishment. Physical self-punishment includes cutting and burning, to excessive burning, sleep deprivation, and more. Psychological self-punishment can range from not letting others help you when you need it to forcing yourself to overwork.  The worksheet offers six strategies to overcome self-punishment including a chart to record healthy coping behaviors. (0122, self-harm, self-injury, negative self-image)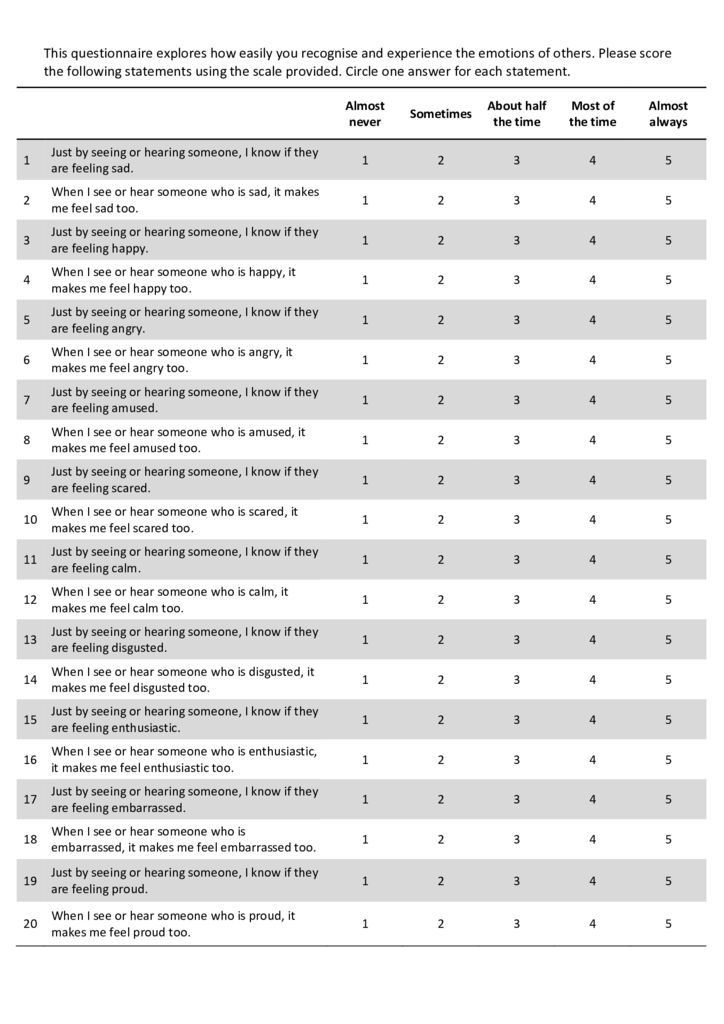 The Perth Empathy Scale
The Perth Empathy Scale (PES) is a 20-item self-report measure of empathy ability. The PES measures people's ability to recognize emotions in others (cognitive empathy) and vicariously experience others' emotions (affective empathy), across positive and negative emotions. (0123, assessment, empathy)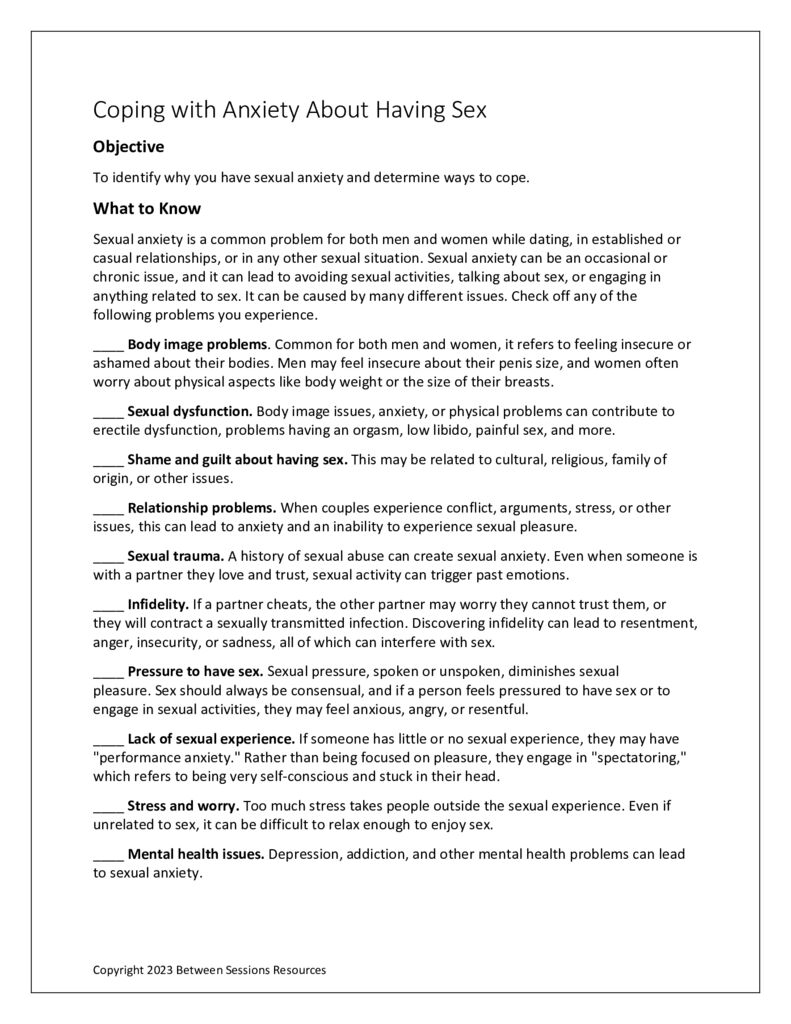 Coping with Anxiety About Having Sex
This worksheet addresses people who are anxious about having sex.  It begins by asking people to think about the causes of their anxiety, which could include body image problems, shame or guilt, pressure to have sex, past trauma, or other issues. The worksheet suggests topics to talk about with a partner and also specific activities to reduce anxiety before sex.  (0123, sex therapy, sexuality, sexual dysfunction, anxiety, relationships)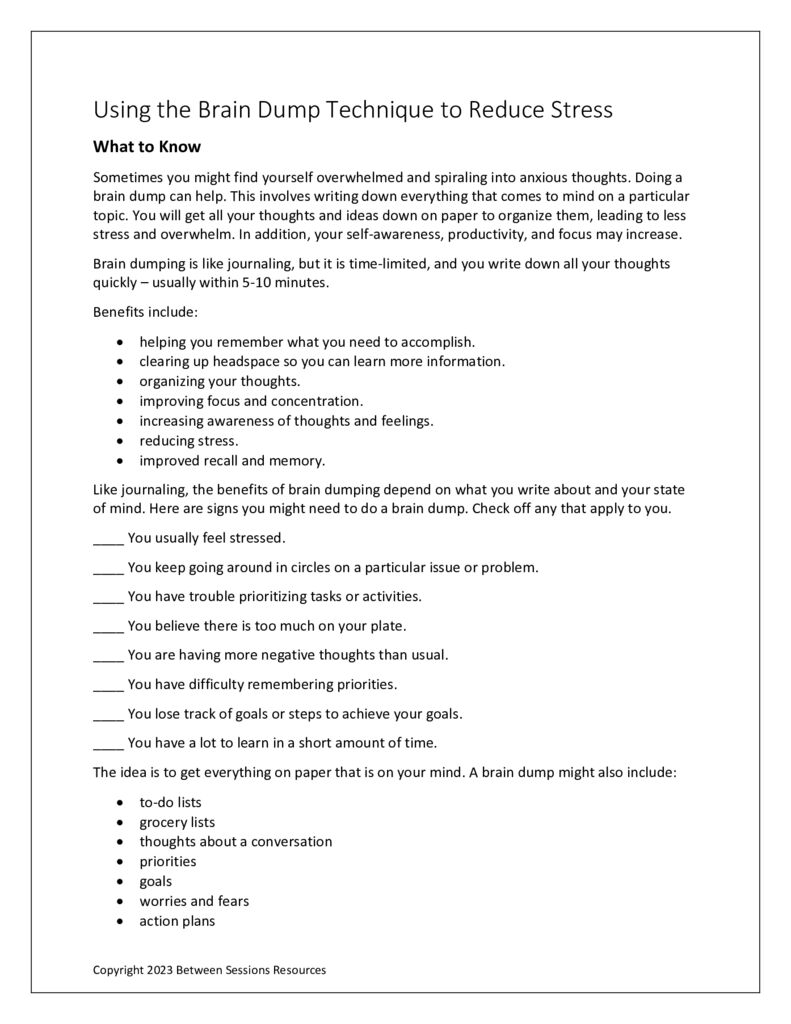 Using the Brain Dump Technique to Reduce Stress
This worksheet describes a stress reduction technique that involves writing down everything that comes to mind on a particular topic.  A brain dump could include thoughts about a conversation, goals, worries, fears, or a list of things that are bothering you.   The worksheet describes four categories of brain dumps.  It encourages people to use a notebook or journal to practice this technique each day for two weeks and record their feelings. (0122, stress reduction, journaling)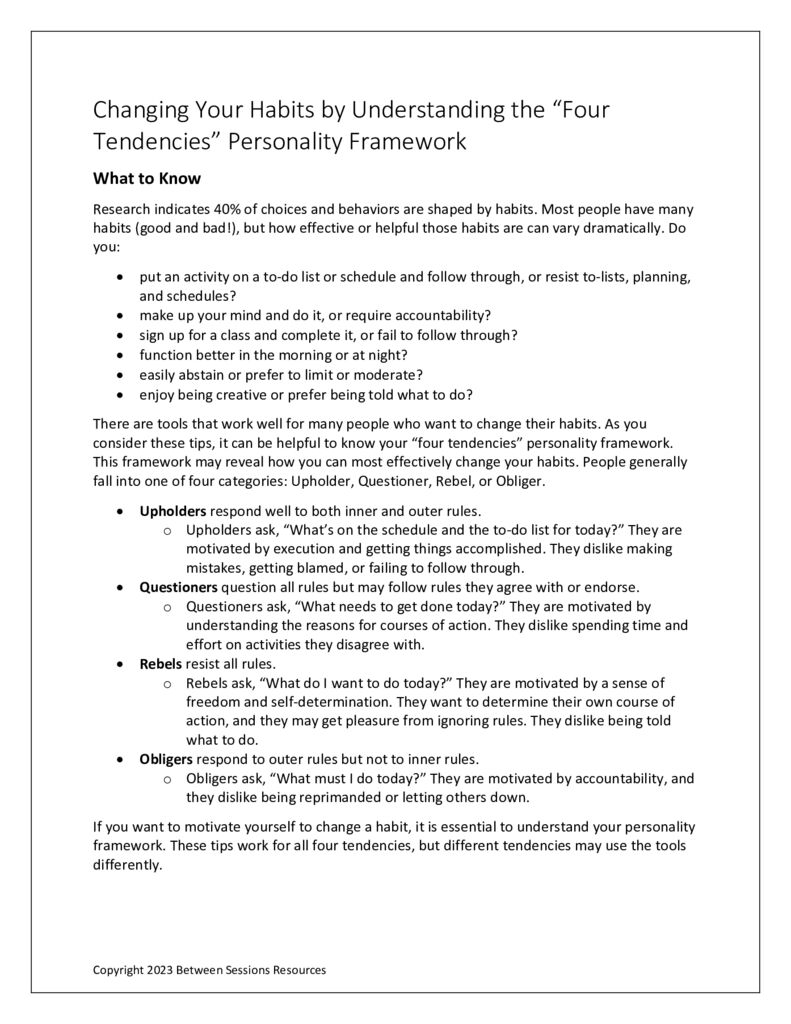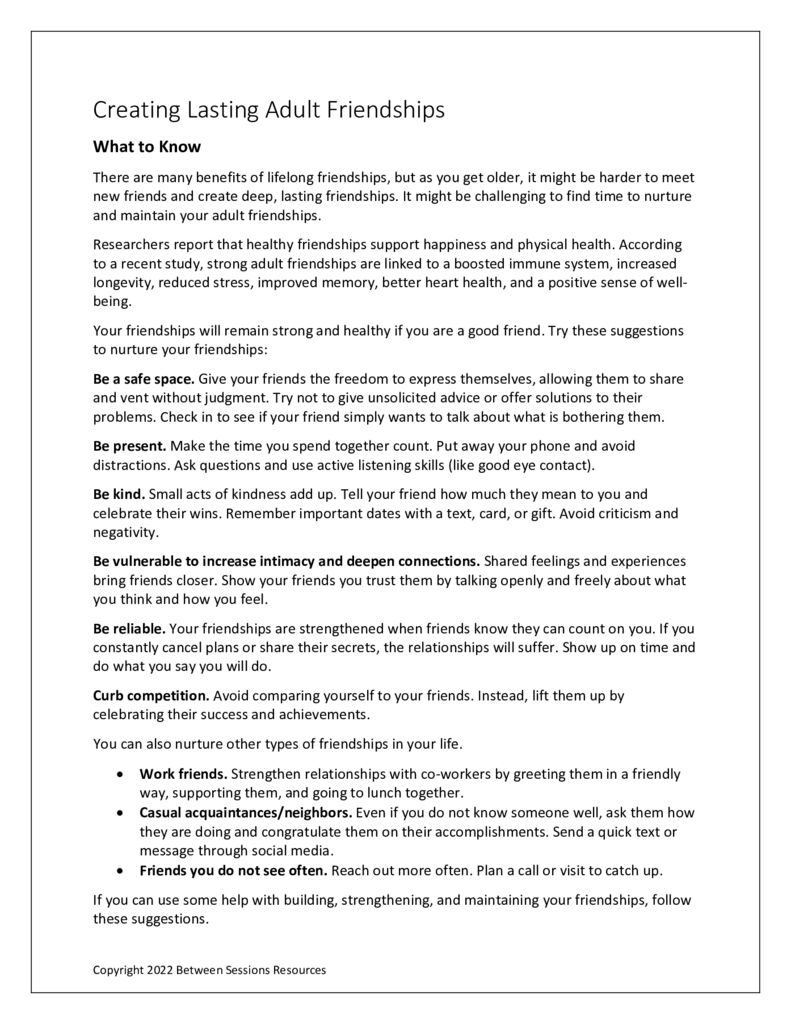 Creating Lasting Adult Friendships
This worksheet emphasizes the importance of strong adult friendships for emotional and physical health.  It has 12 suggestions to build strong friendships followed by questions to help people reflect on the ways they make and keep friends.  The worksheet includes a chart for people to record the activities they undertake to foster friendships. (1222, relationships, friendships, loneliness, depression)