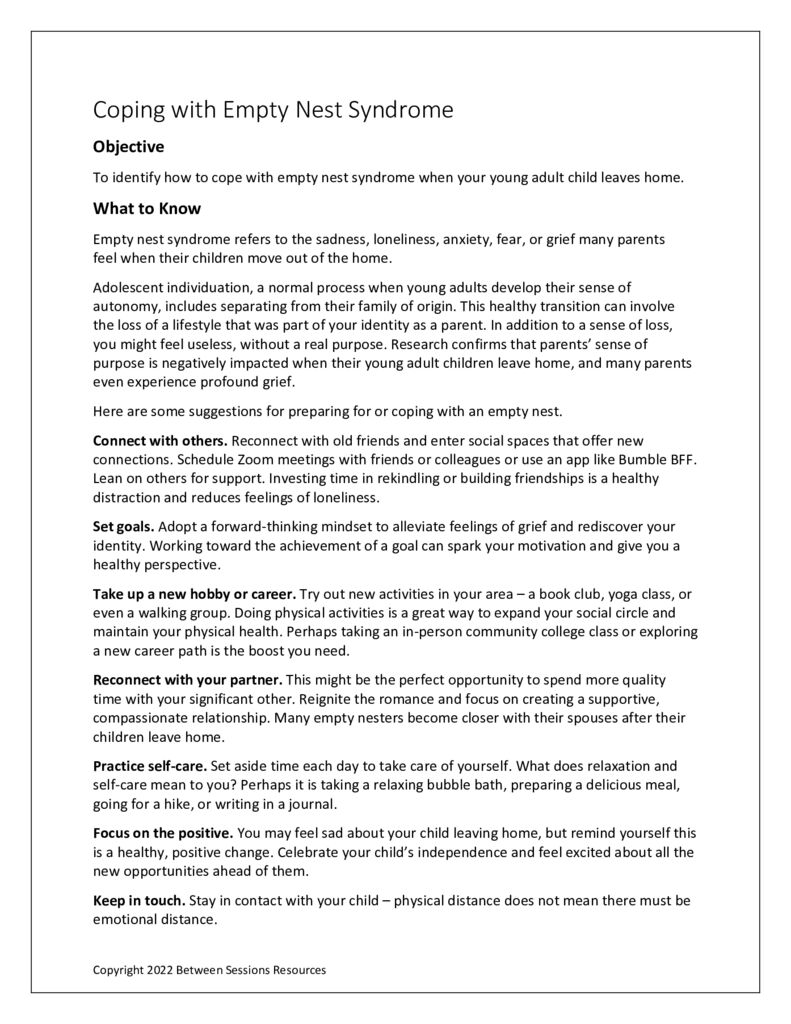 Coping with Empty Nest Syndrome
This worksheet is designed to help parents who are experiencing an "empty nest" when their young adult child leaves home. Suggestions are given to help parents cope with the loss they may feel and a chart is provided (0822, college, family therapy, depression)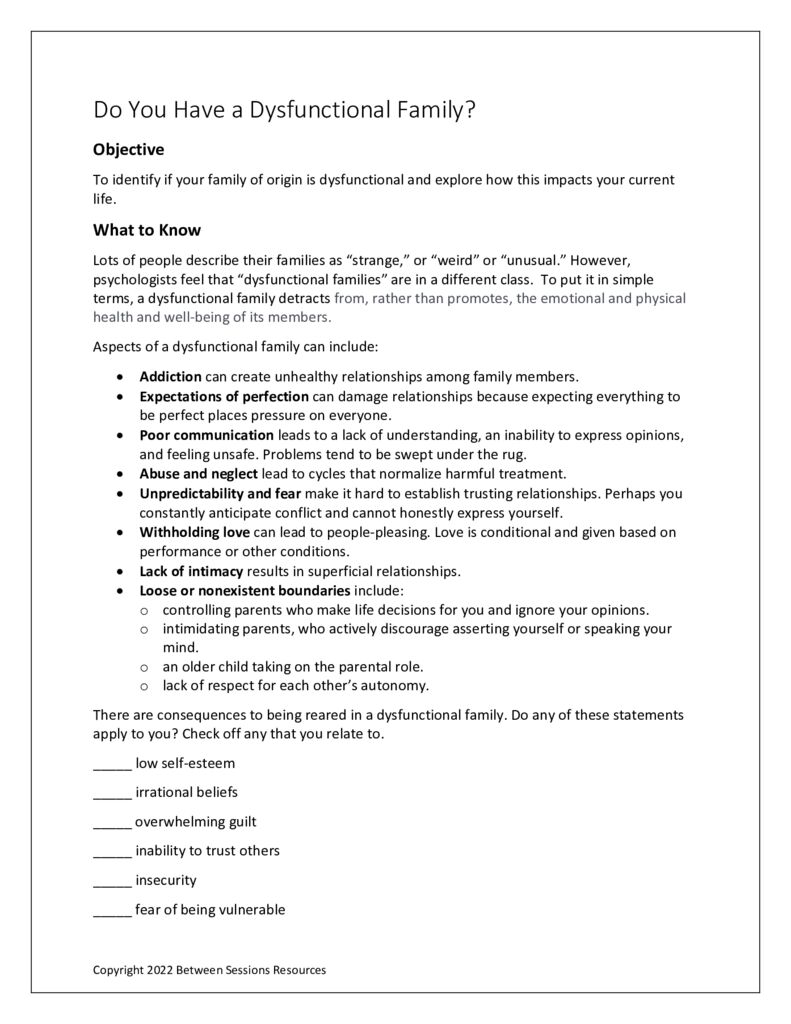 Do You Have a Dysfunctional Family?
This worksheet helps people understand how their family of origin might have contributed to their current psychological problems.  It asks them to think about ways in which their family was unsupportive or even detrimental to their growth.  Questions help people explore how dysfunctional problems can come from different generations and manifest themselves in the present. (0722, family therapy, relationships, families)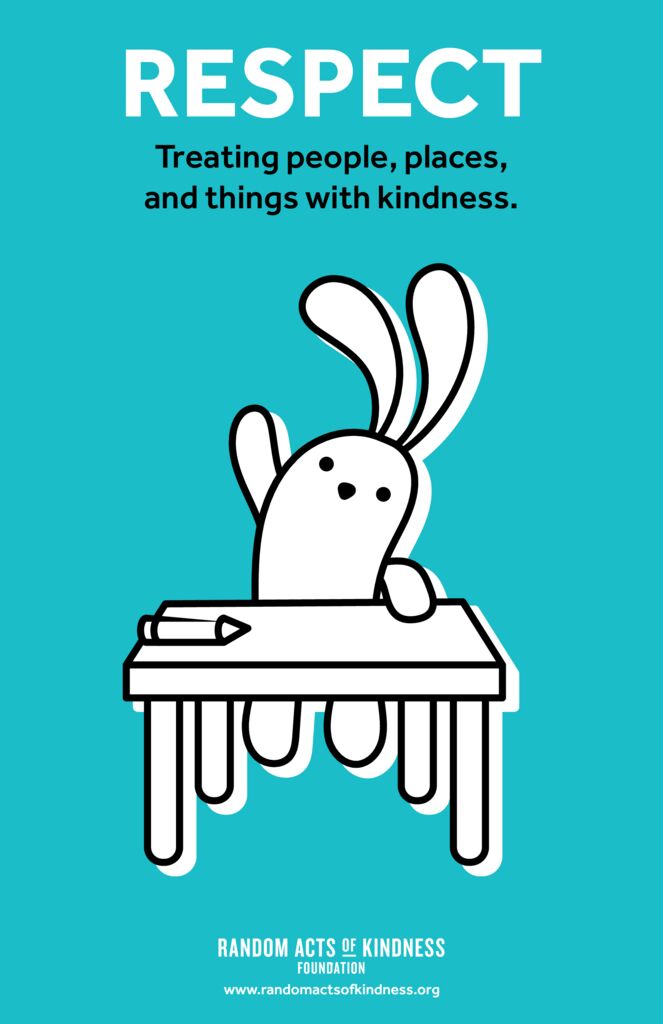 Kindness Posters
Designed by the Random Acts of Kindness organization, these six posters remind us that kindness comes in many forms and includes committing to values like respect, inclusiveness, responsibility, caring, integrity, and courage. The posters make great reminders of these character traits for use in a home or school.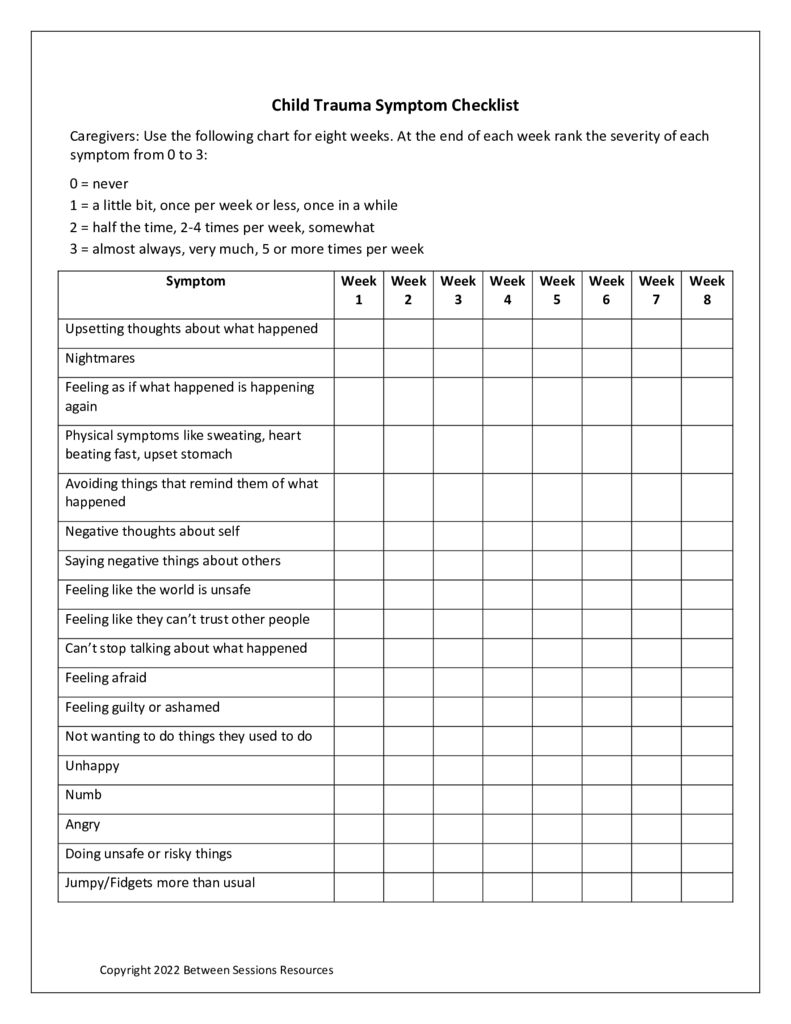 Childhood Trauma Symptom Checklist
This checklist can be used to keep track of symptoms that a child might be exhibiting due to trauma. The checklist asks a parent or caregiver to rate symptoms once a week on a 3-point scale. (0622, trauma, symptoms, PTSD, assessment)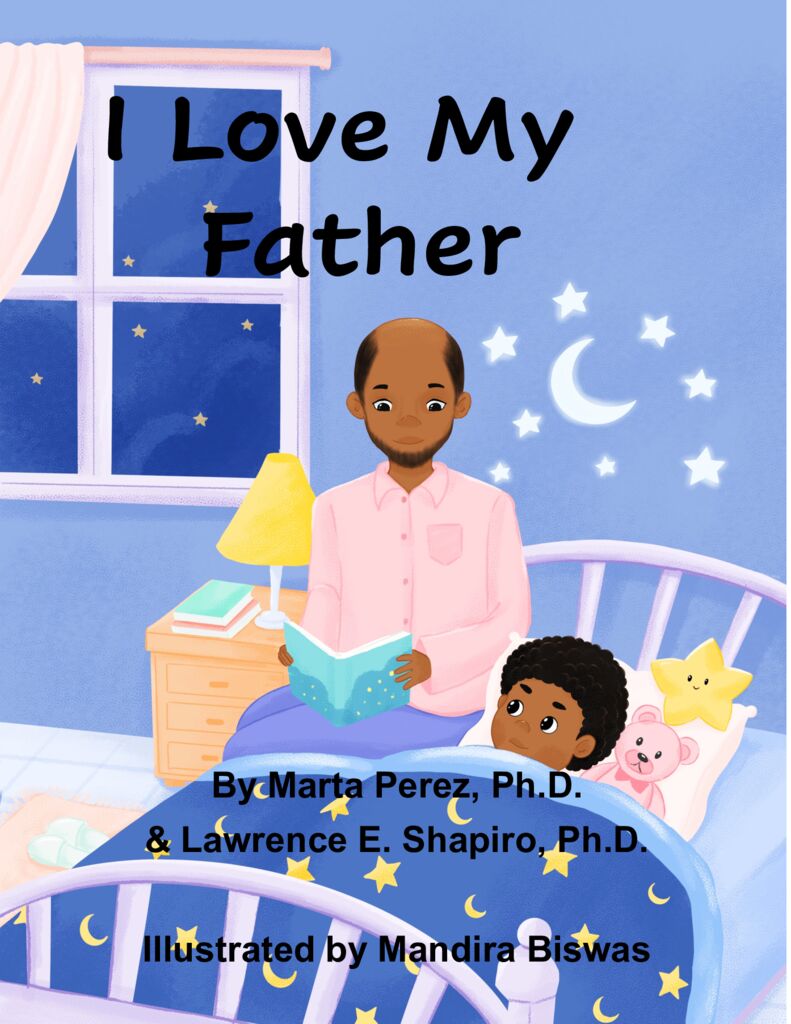 I Love My Father
This picture book for young children is designed to help children appreciate and express love for their fathers. It is also intended to help fathers understand how important they are in the lives of their children. (0622. family, parenting, fathers)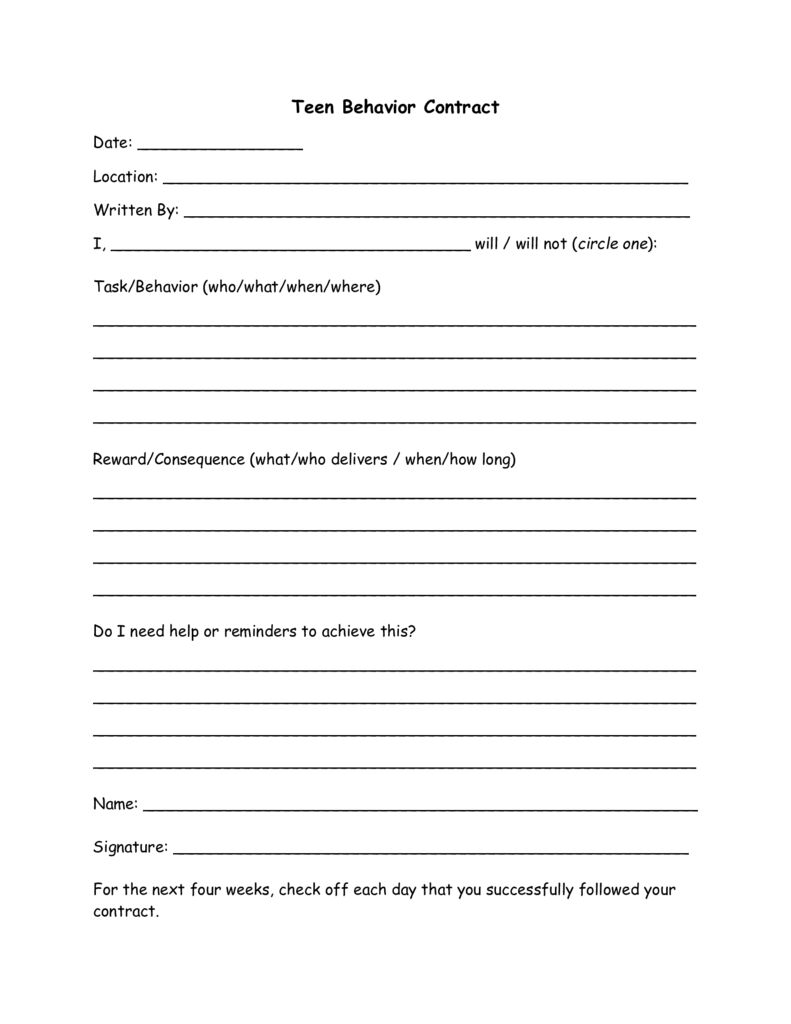 Teen Behavior Contract
This behavior contract identifies tasks/behaviors that a teen will work on, rewards/consequences, and a behavioral chart to track progress. (0622, behavior, contract)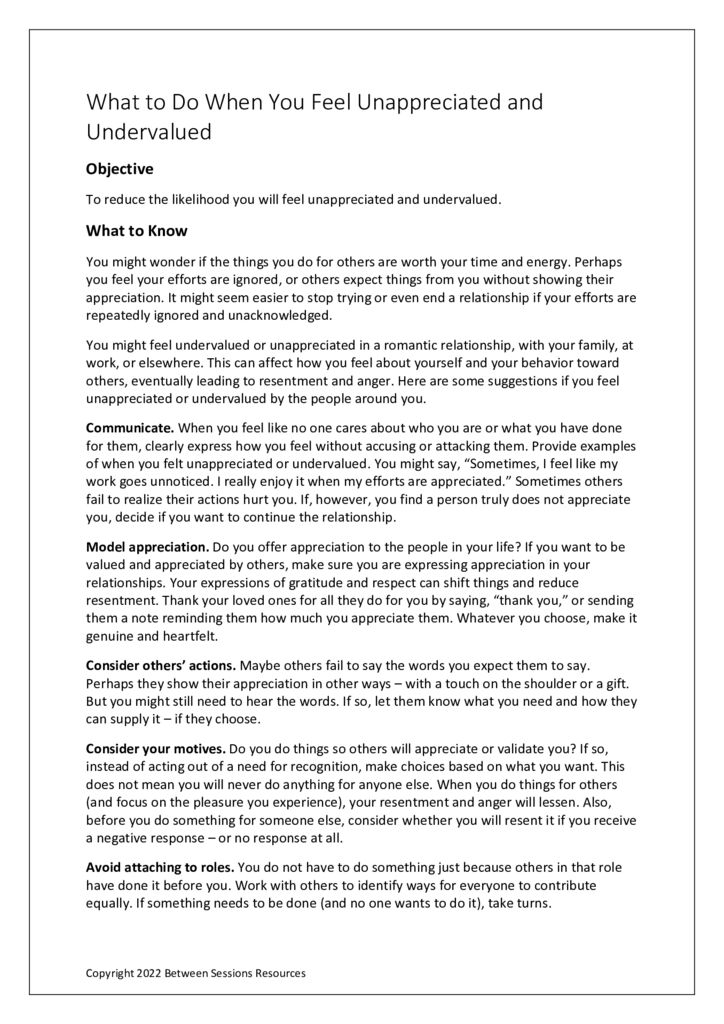 What to Do When You Feel Unappreciated and Undervalued
This worksheet is designed to help people who feel that others are not acknowledging their efforts to be helpful on an ongoing basis.   It provides a dozen suggestions on what people can do to feel better about themselves and those around them.  The worksheet is designed to  help people think about why feeling appreciated is important to them and how they can get the appreciation they seek. (0522, social skills, relationships, marriage, parenting)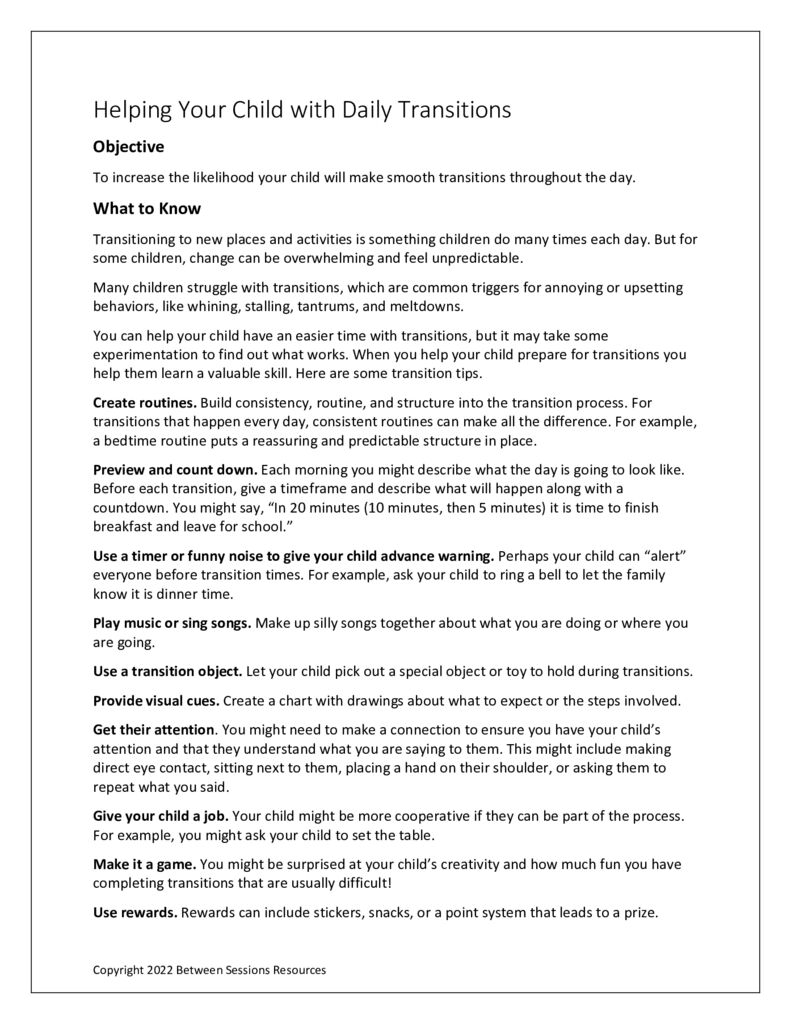 Helping Your Child with Daily Transitions
This worksheet is designed to help parents of children who have a difficult time with daily changes that triggers tantrums, whining, and meltdowns.  Twelve practical suggestions are listed for parents to try, including: making transitions a game, using positive reinforcement, and providing a transition object to teach kids self-soothing.  A chart is provided to help parents keep track of which activities are most effective. (0522, parenting, ASD, Autism, ADHD, inflexible, behavior problems)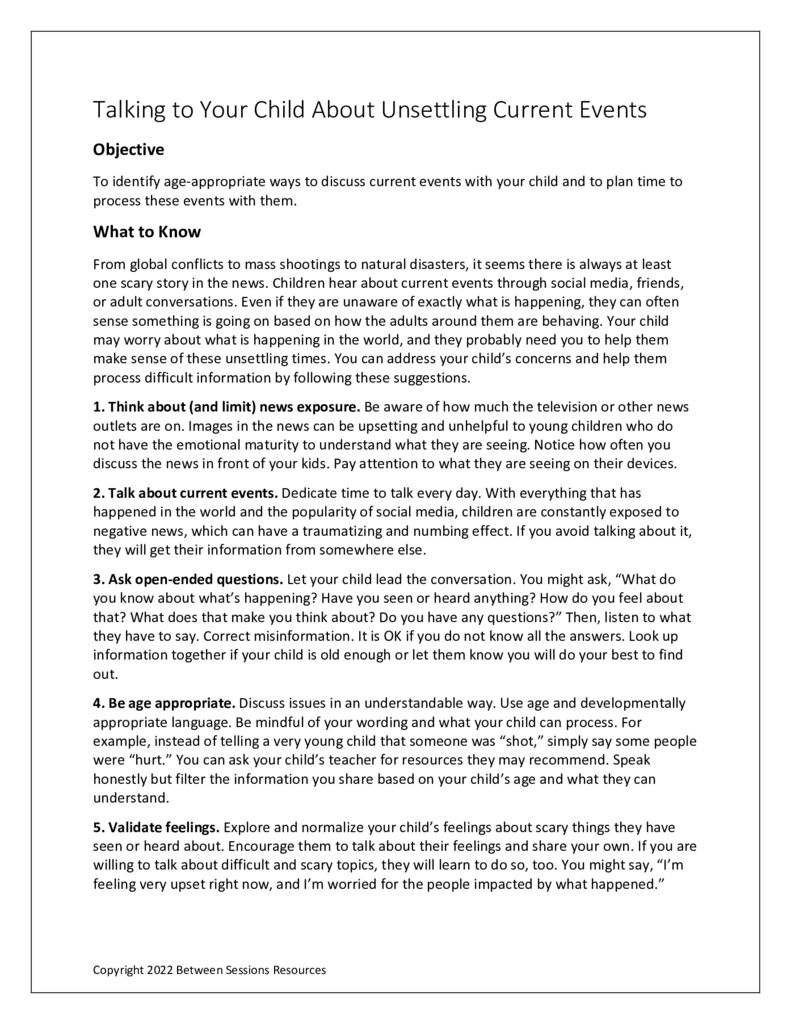 Talking to Your Child About Upsetting Current Events
This worksheet is designed to help parents (and other adults) talk to children about current events that are upsetting to all of us such as mass shootings, natural disasters, war, and so on.   The worksheet gives parents 13 tips on talking to children about difficult things and a chart for parents to keep track of these discussions as well as the outcome. (0522, parenting, news, stress, social media)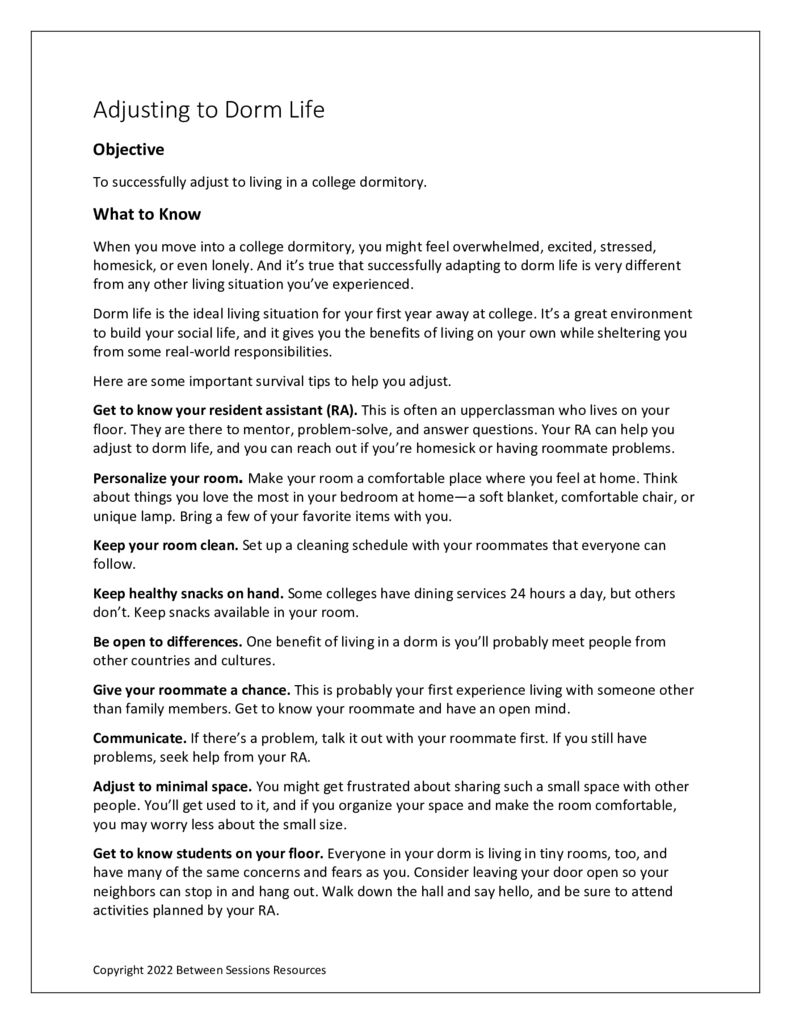 Adjusting to Dorm Life
This worksheet is designed to help new college students have a better experience in their dormitory.  It suggests specific ways to deal with roommates while also paying attention to their own wellness needs.  (0522, college, relationships, transitions, adjustment)